7 Reasons HB142 Is Completely Off Base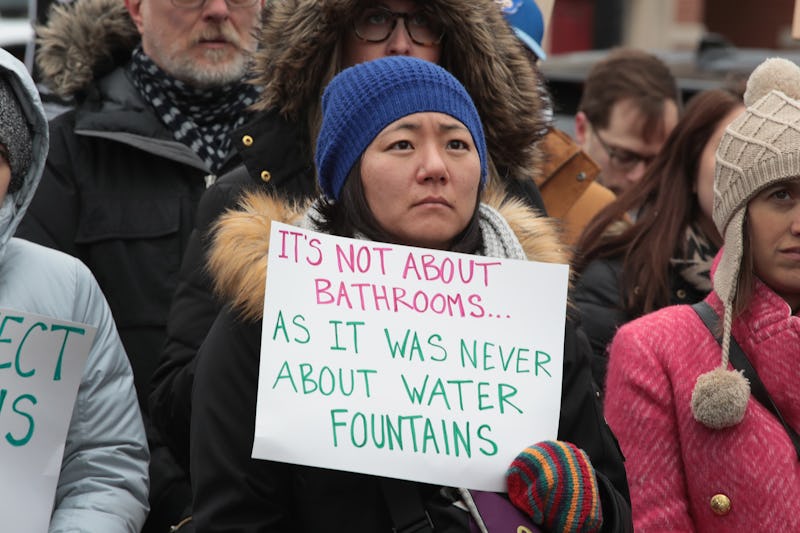 Scott Olson/Getty Images News/Getty Images
It's official: North Carolina's contentious "bathroom bill," HB2, has been repealed as a result of the passage of HB142. But while the bill that nullified local LGBTQ nondiscrimination ordinances is history, the law that did so isn't much better. LGBTQ rights advocates have reason to be upset — there are a lot of things wrong with North Carolina's HB142.
While it's true that HB142 did technically repeal HB2, it hasn't done anything to make North Carolina more welcoming to transgender people or less welcoming to discriminating legislation, especially as HB142 places moratoriums on enacting nondiscrimination ordinances. According to some civil rights organizations, like the ACLU, GLAAD, and Lambda Legal, HB142 isn't a repeal at all, but rather just one more bill for LGBTQ advocates to fight against.
HB142 was passed in both the North Carolina House and Senate on March 30, and the bill was then signed into law by Gov. Roy Cooper later that day. However, the debates over bathroom bills are far from over, and more bills like HB2 and HB142 are likely to pop up again. Even though the legislative jargon can get confusing, understanding what these bills do is of utmost importance. Here are just a few reasons why people are upset with HB142.
The "Compromise" Was Created Just Before The Thursday Deadline
Senators and representatives didn't have the text of HB142 for long before they had to vote on it, meaning its possible repercussions and implications couldn't have been thoroughly examined. Some are calling the deal a "fake repeal" and a "bait and switch," two terms no one wants associated with a piece of legislation.
It Prevents The Creation Of Nondiscrimination Protections
Under HB142, state institutions and subdivisions, including schools, are barred from "regulation of access to multiple occupancy restrooms, showers, or changing facilities, except in accordance with an act of the General Assembly."
That means transgender North Carolinians are still unprotected when it comes to the should-be-simple act of using the restroom.
It Prevents Nondiscrimination Ordinances For Public Accommodations Until 2020
Under HB142, local governments will not be able to pass nondiscrimination ordinances on public accommodations, including those protecting transgender people. The difference is that that section of the bill is only valid until at least December 2020. And if federal protections aren't in place by then, it's likely that a fight to extend the moratorium could ensue.
It Also Prevents Nondiscrimination Ordinances For Private Employment Practices Until 2020
Under the same umbrella, local governments can't pass nondiscrimination ordinances pertaining to private employment practices until at least December 2020. This means LGBTQ peoples' opportunities for employment in North Carolina are at risk for almost another four years.
No Out LGBTQ People Were Involved In Writing It
According to myFox8's Adrienne DiPiazza, Rep. Cecil Brockman claimed that no lesbian, gay, bisexual, transgender, and/or queer people were involved with writing HB142. And since HB2 targeted those exact groups of people, HB142 probably lacks the same amount of insight and consideration than the bill it is repealing did.
It Passed Too Easily
That HB142 passed so easily in North Carolina's House and Senate is immensely disappointing. And the fact that Democratic Gov. Roy Cooper quickly signed it only makes it all the worse. This all comes after gay rights groups gave Cooper their endorsement last year.
HB142 Is Not Alone
As horrible as HB142 is, it's not the only bill threatening the rights and well-being of LGBTQ Americans. There is a whole host of "bathroom bills" being considered across the country. Furthermore, the federal protections that could do the most to stop anti-LGBTQ discrimination seem out of reach during a Trump presidency.
The fight for actual anti-discrimination protections for transgender people continues, and probably will for some time coming.