Pat Butcher Is A Style Icon For The Ages & Here Are The Pictures To Prove It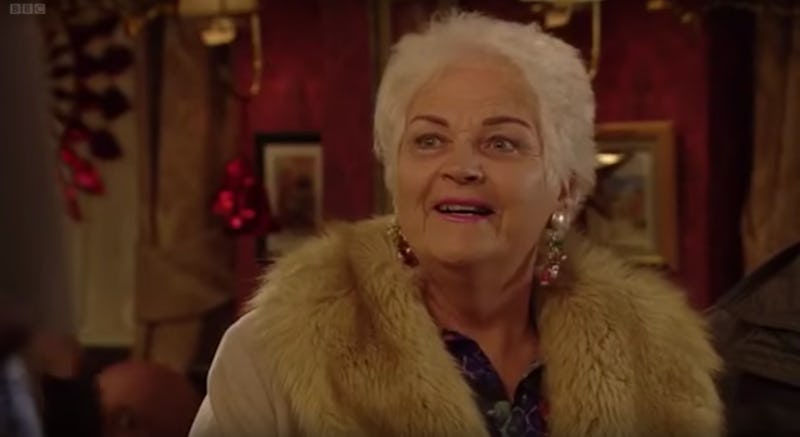 Eastenders
That cool, icy stare. Accessories to make you swoon. A sassy attitude, and let's be honest — a heck of a lot of slaps in the faces. Yes, I am talking about Eastenders' very own legend, Pat Butcher, or Pat Evans, depending on timing. More cockney than pie and mash on a grey day, this woman is one of those legendary characters that has become a household name. Apart from all of those dramatic face slaps and arguments down the Queen Vic, she is known for her style. You heard me — move over Donatella Versace, Pat Butcher is a style icon.
Pat, played by Pam St Clement is perhaps one of the best known characters in BBC's famous soap opera. She has a cagey background as a former gangster's moll and basically takes no BS from anyone. She and her arch nemesis, Peggy Mitchell, followed the age old narrative of two women totally hating on each other mainly over some crappy guy. The crappy guy who they predominately were in constant agony over was Frank Butcher. I recall a particularly famous episode where old Frank turned up at Pat's gaff naked but for a spinning dicky bow. Shudder.
TBH in the end they saw the light of day and were like "OMG let's stop fighting babes", becoming friends. Pat sadly went to the jellied eel shop in the sky back in 2012, but her legend remains. Her strength, sass, and being a total sex positive female icon means she will never be forgotten. Especially after the actor who played her, St Clement, appeared on a show called Gone to Pot: American Road Trip about the positives of smoking weed and got hell blaised for our enjoyment.
Here's the seven ways in which Pat Butcher's style will never die.