7 Seemingly Innocent Relationship Fights That You Should Actually Worry About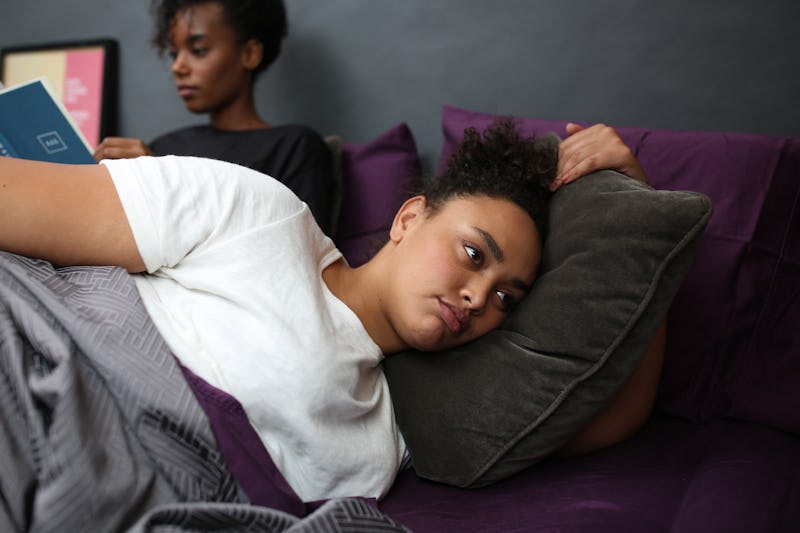 Ashley Batz/Bustle
All couples fight, yes, but some couples get into arguments markedly more than others. Some make a great fuss. Some scream publicly, with incredible gusto, as if locked in a contest to see who will be first to shatter the windows with sheer volume.
Other couples fight harmlessly, or apparently harmlessly, over small things and in small ways. The socks all over the bedroom or the lopsided bed-making or one party's failure to do the dishes, which we all know is a secret relationship death sentence. It can be hard to judge which points of contention are actually icebergs, little peaks of a much bigger problem jutting out of a deceptively calm-looking sea.
So how do you know if the innocent fights actually mean something bigger, something ominous? "Almost all couples have disagreements," LeslieBeth Wish, licensed psychotherapist, author, and founder of LoveVictory, tells Bustle. "In fact, it is actually your differences and complementary styles that drew you to each other — and which make your relationship stronger. But sometimes, those seemingly innocent disagreements can take a turn down a dangerous road. When that happens, you are no longer disagreeing — you are fighting."
And those unresolved issues can creep into the most casual conversations and suddenly blow up. "All couples — even very happy ones who hardly ever disagree — still harbor long-term, unresolved issues," Wish says.
Dr. Fran Walfish, Beverly Hills relationship psychotherapist, author of The Self-Aware Parent, and co-host of We TV's Sex Box, tells Bustle that the issues themselves may not be as important as individual fighting styles: Rather, the question worth considering is can you both "really partner up when there are conflicts? ... [Does] one person or [do] both either go to their own corners and distance from each other, somebody collapses into tears, or do they engage in battle and attack each other?"
Taken altogether, this means that an inconsequential spat over something ostensibly small can inflate into a full-fledged battle, apparently out of the blue. Does this happen to you, when you thought you were bickering about discrepancies in household chores but really you are fighting about discrepancies in respect for one another and one another's time? Here are eight common examples of seemingly harmless fights that are actually a big deal.
(Please note: anytime violence is involved, or threatened; anytime a person begins to feel trapped; anytime the strength of a partner's anger scares you, it is time to consider if and how you can make an exit).