7 Resources For Domestic Violence Victims & People Who Want To Help Them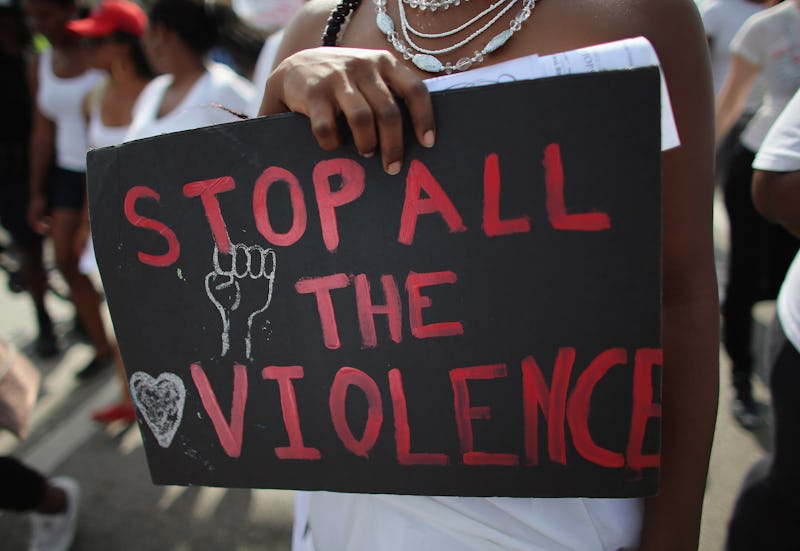 Joe Raedle/Getty Images News/Getty Images
Earlier this week, a startling report published by the United Nations Office on Drugs and Crime indicated that more than half of women who were murdered in 2017 were killed by partners or family members. Those living in unhealthy or potentially unsafe situations often feel that they are stuck, but there are resources for domestic violence victims that provide everything from counseling to exit plan strategies, and they're committed to taking steps to make sure that victims receive help safely.
Domestic violence thrives when victims are isolated, but data like the UN's indicates is that domestic violence is astonishingly common. And while victims often learn to cope and manage the abuse from day-to-day, the danger is very real. For example, the American Journal of Public Health found that the presence of a gun in a domestic violence situation increases the risk of homicide for women by 500 percent, according to the National Domestic Violence Hotline.
Ruth Glenn, president and CEO of the National Coalition Against Domestic Violence (NCADV), spoke with Bustle about a new Disarm DV tool, which aims to make information about firearm prohibition and protective orders readily available to whoever needs it. She says that the issue with guns in domestic violence situations is that they can be used in a multitude of ways.
"Firearms are a very powerful tool not just in the fact victim or survivor may be killed by it… But they're also really powerful as far as coercion and harassment and threatening and control," Glenn says. "So you may have a gun present in the relationship and the victim is never killed by the gun or firearm, but she also knows that the possibility is there, that it can happen."
DisarmDV, which just launched on Nov. 15, is just one of a multitude of resources available for victims and survivors of domestic violence. Unless noted, all websites listed below have emergency exit buttons which allow users to quickly leave a website if they are no longer safe or comfortable viewing it, i.e. if someone suddenly walks up behind them. As always, if you or someone you know is in immediate danger, call 9-1-1.