7 Signs Of A Caffeine Hangover That Go Beyond Having Too Much Coffee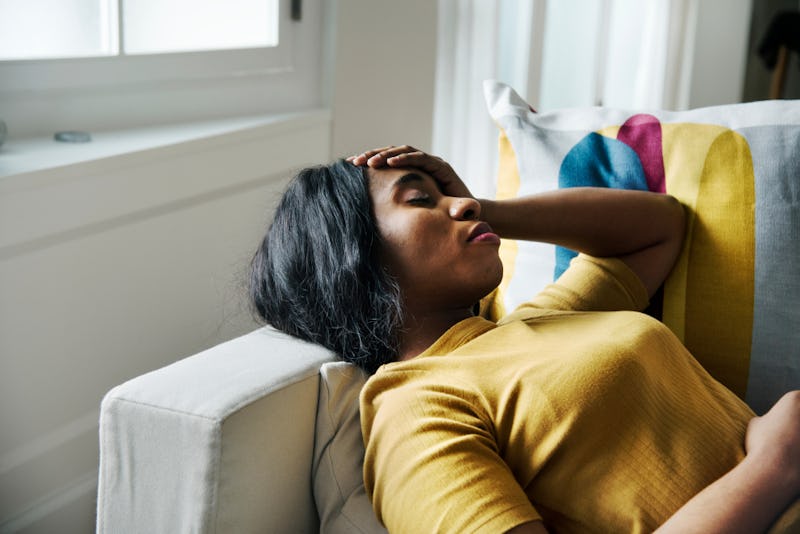 Rawpixel/Shutterstock
You know if you imbibe in a few too many alcoholic beverages, you're probably going to get a hangover. You know the feeling; your head is pounding, everything sounds too loud, and the thought of food is just, well, pukey. But what if you have too much caffeine? Turns out you can have too much of it. These are just seven signs you've got a caffeine hangover.
You can find caffeine in way more than just coffee, and an estimated 90 percent of the U.S. population consumes caffeine on the regular, according to CNN. According to a 2017 study published in the journal Food and Chemical Toxicology, healthy adults can safely consume up to 400 milligrams of caffeine daily, which is basically four, eight-ounce cups of coffee. But tolerance to caffeine varies from person to person, says CNN, and people's lifestyles can also affect how they metabolize caffeine.
"Many people consume caffeine without negative consequences, but for some individuals, either regularly consuming too much caffeine or consuming too much at once can cause distress," Mary M. Sweeney, an instructor who researches caffeine's effects on individuals in the Department of Psychiatry and Behavioral Sciences at the Johns Hopkins University School of Medicine, told CNN.
So what happens if you consume too much caffeine for your body? Tolerance and metabolic rates might vary from person to person, but the symptoms are pretty consistent.