7 Signs Your Fatigue Is Actually Excessive Daytime Sleepiness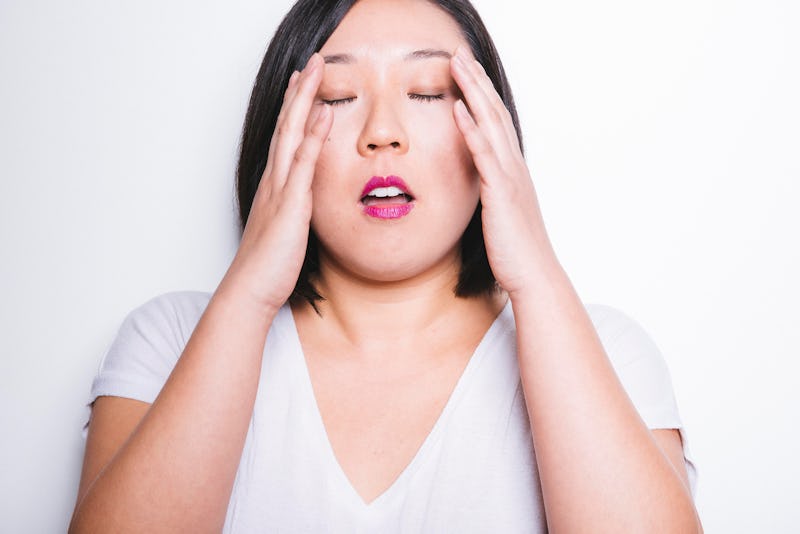 BDG Media, Inc.
Being overly tired can totally wreck your day. Most of us will occasionally suffer from fatigue — a sense of being so tired that you can almost feel weary down to your bones. Usually, it comes from a temporary illness or from a lack of sleep, something that's easily remedied with a bit of rest. Even if you feel tired day after day, having a restful period with a lot of sleep can normally help set it right. But for some people, this fatigue can be a sign of something more. In some cases, extreme tiredness might actually be excessive daytime sleepiness. "At first, these two may seem like the same thing, but they aren't," Chris Brantner, sleep expert and founder of SleepZoo, tells Bustle. "We all get tired sometimes. But that comes and goes with adequate rest. However, excessive daytime sleepiness (EDS) is a chronic issue that indicates something is afoot."
The difference between excessive daytime sleepiness and normal, occasional fatigue can be difficult to explain. Certainly, some of us can feel so tired that it feels undeniably excessive, but that's not necessarily EDS. When it comes to EDS, there's a severity and tenacity to the tiredness that goes beyond what most of us have experienced. So how can you tell the difference? Here's a sign that your tiredness is actually EDS, according to experts.