7 Signs Your Inability To Fall In Love May Be A Larger Emotional Problem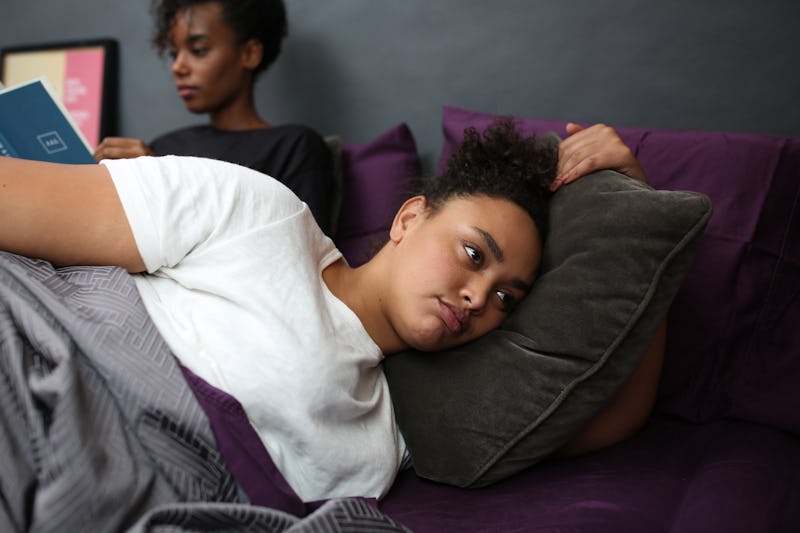 Ashley Batz/Bustle
It's common for many people to go into a relationship with baggage. Regardless of whether that comes from a past relationship or childhood, any baggage you still carry will have a way of affecting your current or future relationship. For some, that can make falling in love or maintaining a positive relationship super challenging. According to experts, your struggles with intimacy may be signs of larger emotional difficulties.
"Love is an essential part of humanity," Dr. Sal Raichbach PsyD, LCSW, of Ambrosia Treatment Center, tells Bustle. "Most people take their relationship skills for granted, but the reality is that a loving, healthy relationship doesn't come easily to everyone." According to Dr. Raichbach, there are many psychological reasons behind why someone might have a hard time falling in love or staying in a committed, healthy relationship.
Fear, for instance, is one of the most common psychological reasons behind why someone may struggle with falling in love or maintaining a loving relationship. Being in a healthy relationship requires you to open up and be vulnerable. When you're scared of doing that, it's hard for your partner to feel emotionally safe with you.
"The psychology behind relationship issues is an intricate, tangled web of the complexities of a person's history in life and love," Gina Yannotta, COO and Head Matchmaker of The Vida Consultancy, tells Bustle. Many people tend to struggle with opening up and making a commitment to someone if they've been hurt in the past, let down, or betrayed. Although every person's situation is different, the struggle to maintain a healthy and positive relationship is what can eventually happen if intimacy issues. But these can be worked through, either by talking with loved ones or a therapist.
So here are some signs your intimacy issues may stem from a larger emotional problem, according to experts.