7 Signs You're Not Just Tired, You May Actually Have Adrenal Fatigue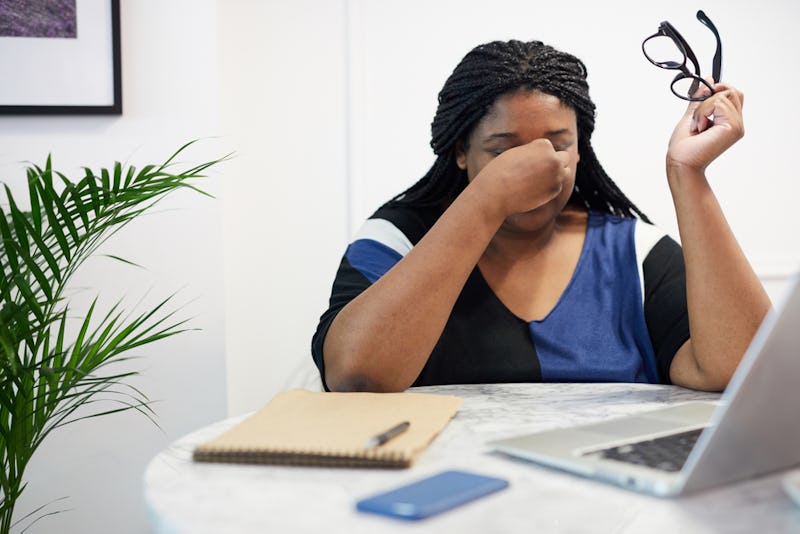 Pressmaster/Shutterstock
If you've been feeling lethargic and burnt out, you may assume you're just tired. But sometimes, feeling fatigued can actually indicate another health issue. If you're experiencing low energy and feel like your body is off, you may be exhibiting signs of adrenal fatigue, which can often be mistaken for just tiredness.
Although adrenal fatigue isn't a technical medical diagnosis, it is one increasingly used in alternative medicine to describe "a group of related signs and symptoms (a syndrome) that results when the adrenal glands function below the necessary level," according to WebMD.
"It is often used to describe the feeling of being excessively tired or fatigued along with other symptoms attributed to the adrenal gland," women's health expert Sherry Ross, MD, OB/GYN, tells Bustle. Stress is thought to cause all of the adrenal fatigue symptoms. Continuing stress exacerbates all the symptoms and causes the body to shut down in various and unexpected ways."
Feeling tired is a common symptom associated with a long list of other medical conditions, so it's important you consult with your doctor to get a proper diagnosis if you feel like something is off. Here are seven signs that you are not tired and may actually have adrenal fatigue, according to experts.