7 Little-Known Side Effects Of Taking Hormonal Birth Control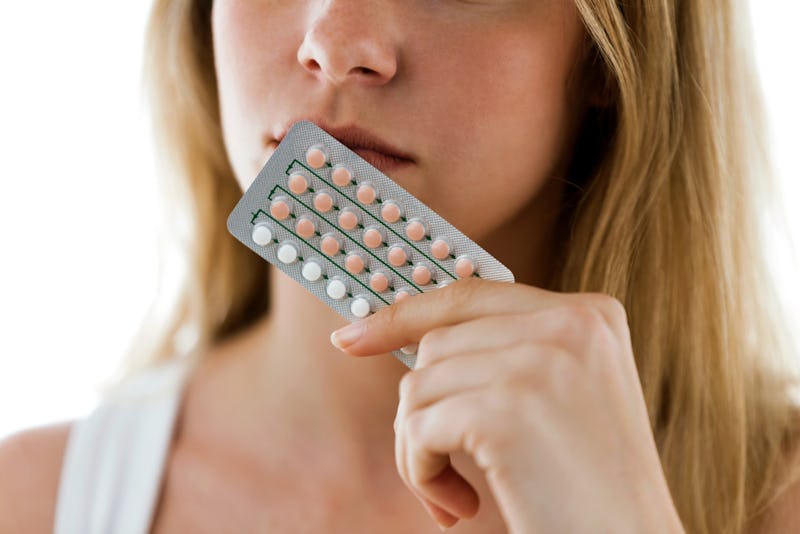 Josep Suria/Shutterstock
Hormonal birth control is without a doubt a game-changer in terms of helping people take control of their reproductive health, but for some, this may come with side effects. The classic side effects of hormonal birth control are well known: an increase in breast tenderness, spotting in between periods, headaches and mood swings are all common, according to Planned Parenthood, and should be taken into account when choosing a method of birth control. However, other less common symptoms, while rare, do happen.
Side effects in general are pretty typical when it comes to birth control that involves hormones, but while they can be mild, many people experience severe symptoms. "Between roughly half and three quarters of American women who have used hormonal contraceptives have reported side effects that made them stop using them," reports period tracking app Clue. Shifting and experimenting with different kinds of birth control because of side effects? You're not alone.
Hormonal birth control is a big category, covering everything from the combined pill and progestin-only pill to the birth control patch and vaginal ring. Copper IUDs, diaphragms, and condoms, by contrast, don't use hormones to alter your reproductive system. Hormonal birth control works by using synthetic hormones to alter the body's reproductive conditions and make it much, much harder to get pregnant, and they're highly effective. However, they can also have some rare and unusual side effects. If you've noticed these symptoms, let your OB/GYN know ASAP.