These 7 Things Bill Cosby's Accusers Said At His Retrial Will Haunt You Forever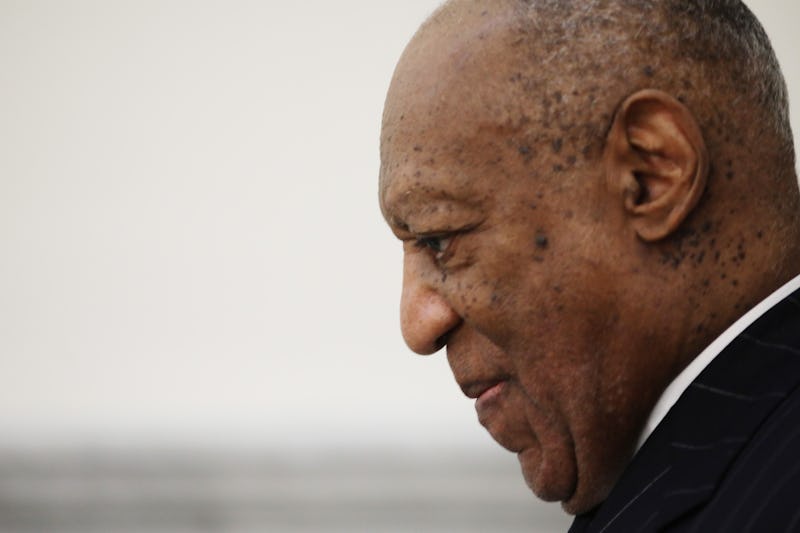 Pool/Getty Images News/Getty Images
This week, prosecutors in Bill Cosby's sexual assault retrial called three women to the stand in order to counter the defense's portrayal of accuser Andrea Constand. All three women had made sexual assault allegations against Cosby dating back multiple decades, and on Wednesday, they got their chance to confront Cosby at the Montgomery County Courthouse. According to CNN and TIME, Cosby's accusers — Heidi Thomas, Janice Baker-Kinney, and Chelan Lasha — gave emotional testimonies, and detailed their allegations against him.
Cosby, who is 80 years old, is charged with drugging and molesting former Temple University employee Andrea Constand back in 2004. Cosby has denied all of the allegations against him. As NBC reported last year, Cosby's first trial on these charges ended in a mistrial because the jury remained deadlocked, prompting the ongoing retrial that started on Monday.
Earlier this week, Cosby's defense attorney — Tom Mesereau — called Constand a "con artist," accusing of her of being interested only in "money, money and lots more money." To counter Mesereau's portrayal of Constand, prosecutors asked Thomas, Baker-Kinney, and Lasha to draw parallels between their allegations against Cosby and those made by Constand.
According to ThinkProgress, prosecutors initially hoped to put 19 of Cosby's accusers on the stand, but Judge Steven T. O'Neill ultimately ruled that only five such witnesses would be allowed to testify. But the retrial has already been full of haunting and emotional moments as Cosby's accusers come forward to address the court.