7 Things Doctors Want You To Know About Quitting E-Cigs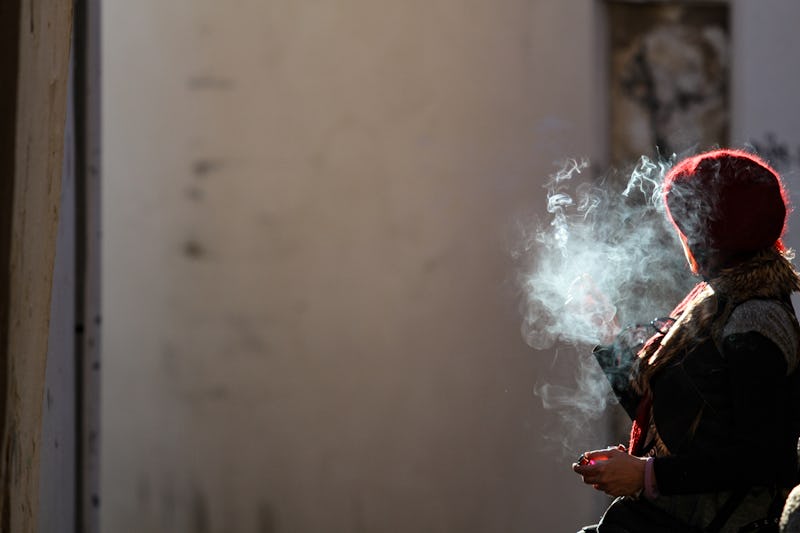 IMAGEN PUNTO DE LUZ / 500px/500Px Plus/Getty Images
If you want to quit your e-cigarette, you're not alone. E-cigarettes and vapes are hugely popular, particularly among younger people; 16% of U.S. college students use e-cigarettes with nicotine, while 5% use vapes with just flavoring, according to a 2019 report from Pew Research. Many people pick up an e-cigarette or a vape in the hope that it will help them quit cigarettes. However, while users may have the idea that these devices carry fewer health risks and are easier to quit than traditional cigarettes, that's not necessarily the case, according to experts.
"The real problem with e-cigarettes is that many people have switched to e-cigarettes in the belief that it will help them quit nicotine, which it doesn't," Dr. Albert A Rizzo, M.D., the Chief Medical Officer at the American Lung Association, tells Bustle. "Many people are dual users; they smoke cigarettes when they can and use vaping devices at other times." Vapes don't expose users to the carcinogenic chemicals in traditional cigarettes, but their nicotine content means they're also addictive, and their health effects are still being uncovered. Quitting e-cigarette and vaping products with nicotine ingredients, evidence suggests, can be as tricky as quitting regular cigarettes.
There are also powerful medical reasons for e-cigarette smokers to quit. "The evidence is certainly mounting that e-cigarettes can have acute and chronic effects on the lung," Dr. Michael Blaha, M.D., Director of Clinical Research at the Johns Hopkins Ciccarone Center for the Prevention of Cardiovascular Disease, tells Bustle. Because vapes and e-cigarettes are comparatively new products, researchers are still discovering their potential health effects — but experts tell Bustle that right now, if you want to quit e-cigarettes, there are seven things you need to know.