7 Inspiring Reasons You Need To Watch Hilary Knight At This Year's Winter Olympics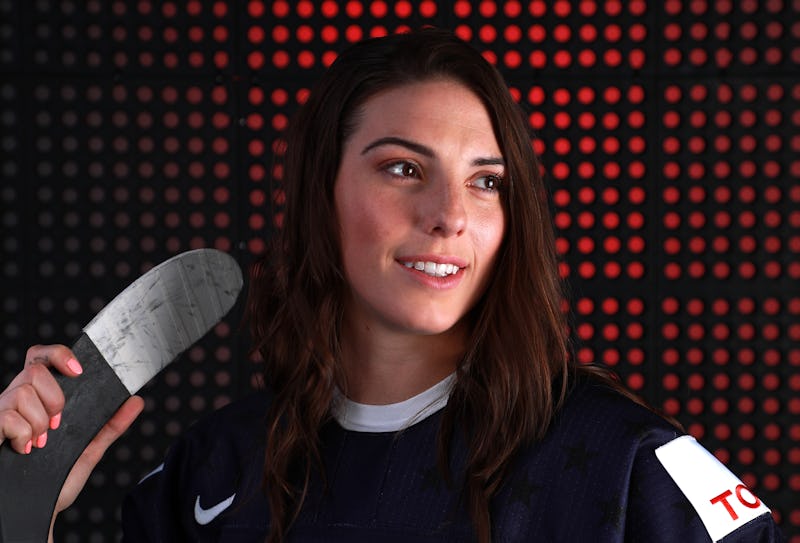 Ron Jenkins/Getty Images Sport/Getty Images
Before women's hockey became an Olympic sport in 1998, a then-novice hockey player told her mom she was going to play in the Olympics. By following her motto "dare to be," Olympic hopeful Hilary Knight, 28, made her dream a reality when she became the youngest player on an Olympic hockey team at the 2010 winter games in Vancouver where she took home a silver medal. She was 20 at the time. "I wanted to go the highest level of any sport," Knight tells Bustle. "I fell in love with the game at a very young age. That's really what has allowed me to excel and pursue it professionally."
Going into her third Olympics, Knight says that her professional journey began while she was still in high school, where she realized she could make the national team. "Once you make the national team you're in the player pool," she says, which allows scouts to assess your performance and invite you to the Olympic tryout camp. Once players get to the Olympic trials, the competition is even fiercer. Where some athletes crumble under the pressure, Knight excelled, proving that her status as one of the best — if not the best — female hockey players in the world is well earned.
Even though PyeongChang will be her third time competing at the Olympics, Knight is just as excited as she was in 2010. "I'm excited to go to a completely different country that I have not been to before, and even though it's far away from the U.S., with technology and social media we're more connected than we've ever been," Knight says.
"I'm excited for not only us to go over there, but for our fans to tune in and and experience the Olympic games as well," she says. If you plan on tuning in to watch Knight and the rest of the U.S. Women's Olympic Hockey team go for the gold in PyeongChang, here are seven things to know about one of the women you'll be rooting for.
1. Knight Was The First Female Skater To Practice With The NHL
Knight tells Bustle that she grew up skating with her younger brothers, and she played ice hockey on a boys' team for much of her early career. According to Knight's website, she made history in 2014 when she became the first non-goalie (she plays the position of forward) U.S. women's ice hockey player to practice with the NHL when she took the ice with the Anaheim Ducks.
2. She's A NWHL Player For The Boston Pride
Knight is a member of the National Women's Hockey League (established in 2015) for the Boston Pride. While the league is still young, Knight says it's exciting to be on the ground floor building the NWHL with fellow players. "Going pro is a work in progress. There's been a lot of attempts to establish a women's professional league," Knight says. "The fan base is there, and the want and the need for a women's professional league is definitely there, so it's an exciting time to be in the sport. But at the same time we're not totally established yet with the NHL-style salaries or anything like that."
3. She Puts Her Love For The Game Above Winning
While some athletes might subscribe to the motto "winning isn't everything, it's the only thing," Knight isn't one of them. While everyone wants to medal at the Olympics, Knight says appreciating the entire experience is important. "Enjoy the process and the moment because it's a huge opportunity and a huge platform and something you've always dreamed about," she says. "So, just embrace everything that the Olympic games has to offer during this journey that we're all going to embark on together."
Though she admits that most of her teammates are perfectionists, each time she steps on the ice she views it as an opportunity to improve her game. "The best part of that quality is you want to go out there and make each play even better than it was before so you sort of become obsessed and in love with the game at the same time."
4. She Feels Like A Kid When She Puts On Her Skates
Everyone dreams about turning what they loved most as a child into a career, but only a handful of people are able to make it happen. Going into her third Olympic Games, Knight knows how lucky she is to be living her dream. "I've grown to appreciate even more how hard it is to make this team and be part of such a spectacular group and, at the same time, I feel like a little kid when I'm out on the ice," she tells Bustle. "Playing for your country on the world's biggest stage [with] everyone watching you — that's what you always dream about when you're a kid, being in those big moments. It's really going to be another dream come true, and I'm really excited to fulfill that."
5. She's A Champion For Female Empowerment
Together with other females athletes, Knight participated in the 2015 #LikeAGirl campaign to empower women and girls to pursue their dreams. "Being a female athlete, I've always been sensitive to the phrase 'Like a Girl,' especially when I was growing up and was told I couldn't play with the boys," Knight said in a press release. "Today, that's exactly what I'm doing — playing hockey with some of the best male hockey players in the world. Girls are breaking barriers and boundaries every day in everything from sports and science to business and the creative arts."
Additionally, in ESPN Magazine's 2014 Body Issue, Knight spoke out against stereotypes that being muscular isn't feminine. "Women in general, we tend to shrink ourselves and not have as much confidence as we should in presenting ourselves and our body types," Knight told ESPN. "It's OK to be fit and healthy and comfortable within your body, whatever frame you have. [...] I've tried to shatter the body image that muscular isn't feminine."
6. She Has Some Advice For You
Many athletes have words to live by, or a personal mantra that helps them overcome obstacles. For Knight that mantra is dare to be. "I'm always trying to push the envelope and impact people in a positive way; fortunately I've been able to do that through sport, and I encourage other people to do the same," she says. For Knight, dare to be is open ended, allowing her to choose the word she needs in each moment such as dare to be brave, fierce, or calm.
7. Having Fun Is The Foundation For Her Success
With opportunities to travel, play hockey at the Olympics, and form lifelong bonds with her teammates, Knight finds purpose in everything she does. "If you had told me years ago that I'd be able to travel the world and meet amazing people through ice hockey, I would have told you you're crazy," she says. "I think really imprinting that on the next generation — how many different avenues are open to you through playing a team sport, and how important sport is, from not only a social aspect, but from an off-ice personal development aspect as well [is key]."
The best advice Knight has ever received is something everyone can aspire to: Have fun. "That's why we do what we do," Knight says. "You can find inspiration in anything. Whether it's friends, family, quotes, or a book that you've read — you just have to embrace every moment and try to be as positive as you can."
Because she doesn't want you to miss a minute of the action when the Games begin on Feb. 8, Knight has partnered with Comcast to promote the Xfinity X1 Olympics viewing destination for everything Olympics that integrates all live, on demand, and streaming NBC Olympics content in one place. Additionally, you can use the X1 Sports app to stay up to date on scores, schedules, advanced analytics, highlights and more for every sport, event, and athlete so you can experience the PyeongChang 2018 Winter Olympics in real time. You can also follow Knight on Twitter and Instagram to see personal snaps of her Olympic journey when the games begin.
Learn more at teamusa.org. The Winter Olympics are live on February 8.
This piece was updated on Feb. 7.