7 Things You Should NEVER Do When Traveling With Your Pet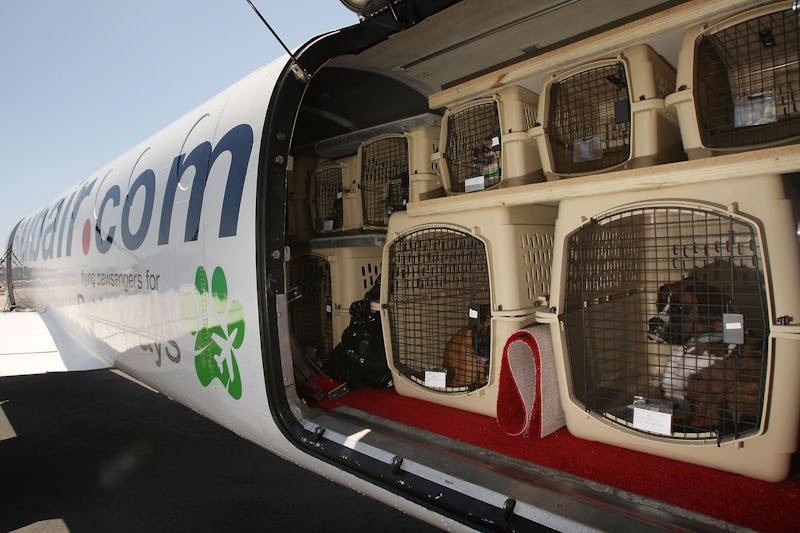 David McNew/Getty Images News/Getty Images
If you're a pet owner, you know that traveling with your pet is one of the most stressful situations you and your pet can go through — despite how easy reality shows that depict celebrities hanging with their pets on private planes might make it seem. While commercial airlines allow certain pets to fly, there are a slew of restrictions, fees, and risks that make the process both complicated and deterring. But above all else, traveling on a plane with your pet can be not only dangerous, but fatal, if you don't carefully follow the advice of a veterinarian. Before you make any travel arrangements, you'll want to know what never to do if you're traveling with your pet on a plane, because following precautions could be the difference between life and death.
According to an annual report by the Department of Transportation, in 2017, 24 pets died in flight, while another 15 were injured. Generally speaking, inflight fatalities are considered rare, as these reported incidents occurred at a rate per total 506,994 pets transported. But even if fatalities are not common, the risk is there.
According to the Humane Society of the United States, pet owners should really weigh their options before committing their pet to air travel, as cars are a safer option. Generally, if your pet is under 20 pounds and able to fit into a TSA-approved carrier that fits under the seat in front of you like a standard carry-on, you can travel with your pet in the cabin. Cabin travel for pets is the safest option, as the temperatures are controlled, you have access to your pet, can check in with them, provide them with water, comfort them, and listen for signs of distress. If your pet is larger than 20 pounds and is not registered as a service dog, it will have to fly in cargo, which is a less desirable option.
This article was originally published on