7 Travel-Friendly Sex Toys To Try This Summer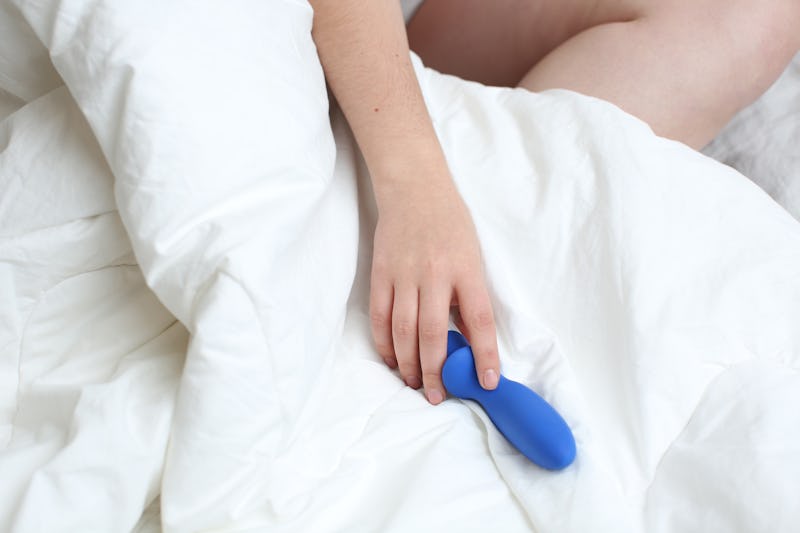 Ashley Batz/Bustle
Summer is upon us, and you know what that means: Commuting to work on public transportation, your head wedged into a stranger's sweaty armpit for the duration of your ride; the omnipresent scent of hot trash; an office air conditioner cranked all the way up, turning your desk into an icy tundra that demands you throw a winter coat over your lightweight threads; and maybe the possibility of travel. Perhaps you stand among the lucky few whose employers allot summer Fridays or perhaps you, like me, are staring down the barrel of a three-month wedding parade. So, for all of you with summer trips ahead, what are the best sex toys to sneak into your travel bag?
This is a good question to ask: According to a 2016 study by Expedia, secret romance capital of the internet, I guess, vacation makes us feel extra sexy and ups our libidos. So why not jump into your summer trip with a full set of tools to make the most of your downtime?
If you plan to travel by train, automobile, or boat, you should be fine to just slip a sex toy into your bag and be done with it. If you plan to fly, however, it pays to do some research before you go: Whether gearing up for domestic or international travel, do the requisite research to determine whether or not you can legally bring your vibrator with you. And archaic laws aside, bear in mind that the TSA does not have a sterling track record when it comes to handling sex toys. Recall, for example, that time an agent searched writer Jill Filipovic's checked bag and left her a note reading "get your freak on girl" after stumbling upon a "personal item," as Filipovic put it. Professionalism sometimes goes out the window where sex toys are involved.
And then, you'll just need to do the basics, like removing the batteries from battery-powered toys for a flight. You'll probably want to disarm your toys before takeoff, so you don't end up spilling a bag full of buzzy dicks all over the airport floor as you harriedly pull your luggage from the carousel.
So what are the best travel sex toys? With all these provisos in mind, here are my top seven picks to pack in your carryall this summer.