7 Trump Quotes About Ivanka That Will Make You Go WHOA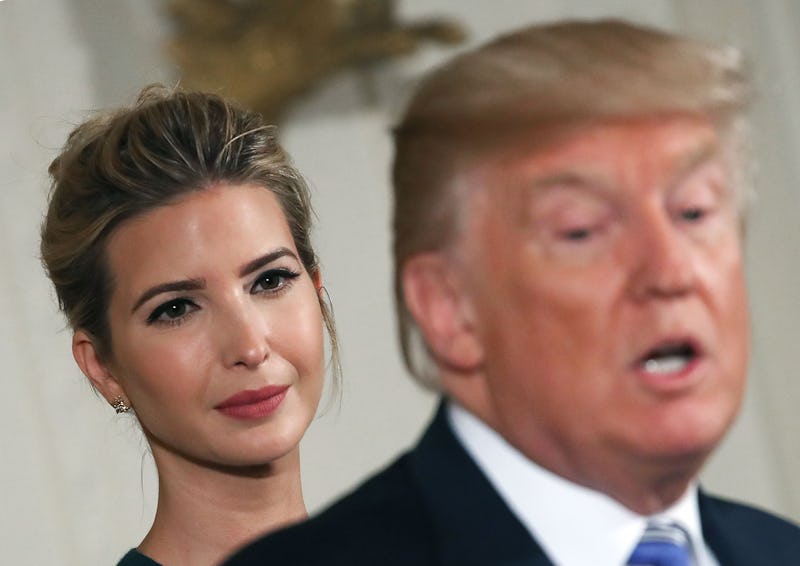 Mark Wilson/Getty Images News/Getty Images
Reports swirled Wednesday that In Touch magazine was preparing to release a lengthy 2011 interview with adult film star Stormy Daniels in which she claimed the president, who she allegedly had a sexual affair with years ago, compared her to his daughter. That detail already has attracted a tremendous amount of attention, and it would be far from the first time a Trump quote about Ivanka has focused on his oldest daughter's physical appearance.
According to The Daily Beast, Daniels told In Touch that Trump, who at the time was a reality TV host with no foreseeable political future, commented that she looked like his own daughter. Given that the alleged events took place more than a decade ago in 2006, Trump was almost certainly talking about Ivanka, as his youngest daughter, Tiffany, was just a child at the time.
"We had really good banter," Daniels said, as quoted by The Daily Beast. "He told me once that I was someone to be reckoned with, beautiful, smart, just like his daughter." Daniels now flatly denies any affair between her and Trump ever took place; she reportedly entered into a nondisclosure agreement with Trump's lawyer for a sum of $130,000 in 2016. Trump, through his lawyer, denies the affair as well.
Still, what Trump reportedly said about his daughter to Daniels fits into a larger pattern. Although Daniels reportedly told In Touch that he compared them on the grounds of their mutual intelligence and beauty, he's previously made remarks about Ivanka's body that have caused some controversy.
1. "She's Got The Best Body"
Back in 2003, Trump commented on Ivanka's physical appearance on an episode of The Howard Stern Show, singing her praises to the infamously vulgar radio host. "You know who's one of the great beauties of the world, according to everybody?" Trump asked. "And I helped create her. Ivanka, my daughter, Ivanka. She's 6 feet tall, she's got the best body."
2. Is Ivanka A "Piece Of Ass?" "Yeah."
In a 2004 interview, Stern asked Trump if it was alright for him to call Ivanka, who was then in her early 20s, "a piece of ass." Trump, having just commented on how "beautiful" his daughter was, gave a short and to the point response: "Yeah."
3. "Perhaps I'd Be Dating Her"
Arguably the most well-known example of Trump commenting on Ivanka's looks is the pair's 2006 appearance on The View. After the show's hosts asked Trump how he'd feel if Ivanka posed for Playboy magazine, he commented on her "nice figure." "I don't think Ivanka would do that inside the magazine, although she does have a very nice figure," he said. "I've said that it Ivanka weren't my daughter, perhaps I'd be dating her."
4. "But She's Got A Boyfriend"
In a 2006 profile by New York magazine, Trump remarked on how "beautiful" the then-25-year-old Ivanka was, and claimed that every guy in America wanted to date her. "Let me tell you one thing: Ivanka is a great, great beauty," Trump told the magazine. "Every guy in the country wants to go out with my daughter. But she's got a boyfriend."
5. "She's Always Been Very Voluptuous"
In 2006, in yet another sit-down with Stern, Trump denied that Ivanka had received breast implants, and once again commented on the shape of her body. "She's actually always been very voluptuous," he said. "She's tall, she's almost 6 feet tall and she's been, she's an amazing beauty."
6. "If I Weren't, Ya Know, Her Father"
In a Rolling Stone profile published in September 2015, Trump reportedly made the following comment about Ivanka, again raising the notion of dating her, if only he wasn't her dad. "Yeah, she's really something, and what a beauty, that one," Trump was quoted as saying. "If I weren't happily married and, ya know, her father…"
7. Kissing Her "As Often As I Can"
In the final months of the 2016 presidential election, Trump went on The Dr. Oz Show to reveal some details from his medical report (the credibility of the event was questioned at the time). There was also a moment that was reportedly cut from the broadcast. At one point, according to The Hill, Ivanka came out on stage and gave both Oz and her father a kiss. When Oz commented on it, Trump reportedly said that he likes to kiss her "as often as I can."
It's fair to say that Trump has generated a lot of controversy over the years with how he's spoken about his daughter, and that's the context for understanding why his alleged remark to Daniels is attracting so much attention now. It's important to note, however, that legal representatives for Trump and Daniels herself both deny the affair ever took place — even though Daniels told a much different story seven years ago, according to In Touch.