7 Ways Acupuncture Changes Your Brain, According To Science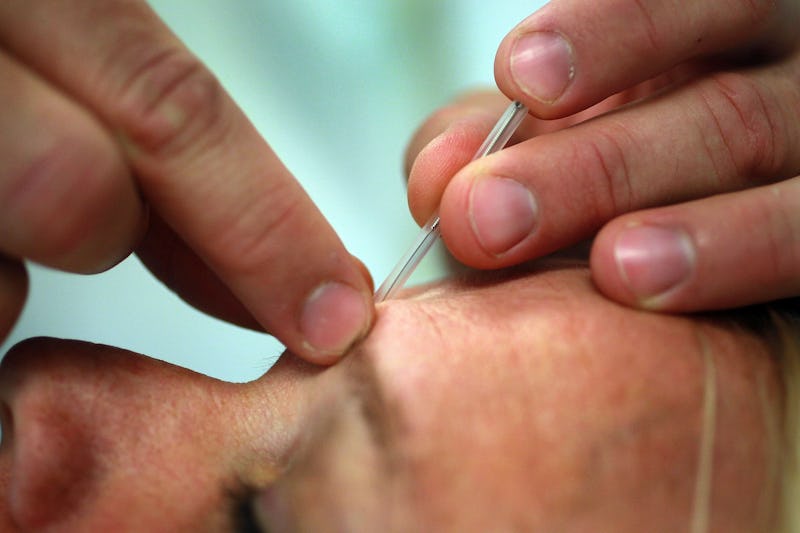 Joe Raedle/Getty Images News/Getty Images
Most everyone knows what acupuncture is, but do you actually know how it affects you? The age-old practice has been around for at least two thousand years (and some people believe it is much older than that), and despite any skepticism about its efficacy, the benefits of acupuncture for various health conditions and pain are backed by a large body of scientific research. If you were ever curious as to how and why acupuncture works to combat many chronic health issues, it's because acupuncture can literally change your brain, from its chemistry, to your neurotransmitters, and your response to pain.
"Acupuncture is part of Traditional Chinese Medicine [TCM], which is a whole system approach to health," Dr. Elizabeth Trattner tells Bustle. "Unlike western medicine, Chinese medicine and acupuncture takes into account a patient's whole being, and we address the entire body — including the physical, emotional and spiritual wellbeing."
Dr. Shari Auth, DACM, LAC, LMT, and acupuncturist at the NYC wellness center Modrn Sanctuary, explains, "One of things that so amazing about acupuncture is its numerous use cases. In addition to being a great alternative to prescription pain medication, it is also good for mental health. In today's busy world, people are turning to acupuncture for relief from stress and anxiety."
And where do all those benefits start out? In your brain, of course. Here are seven ways that acupuncture can change your brain for the better, according to science.