These Super Simple Hacks Will Help Make Your Perfume Last Longer In Hot Weather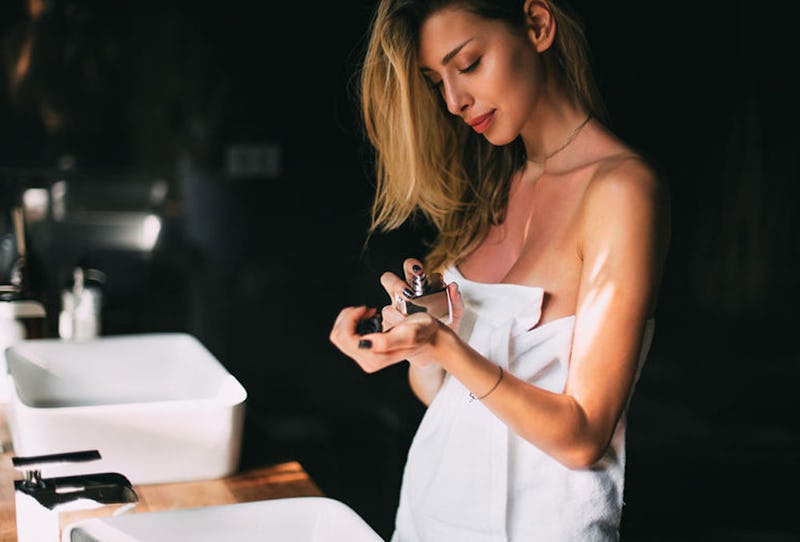 Studio Firma/Stocksy
It's easy to get incredibly sweaty in this never-ending heatwave. And while deodorant can prevent any nasty odours, you'll probably still be turning to your favourite perfume in order to give off a much more enticing scent. Oh, and spraying it. And spraying it. Then maybe just once more. But no matter how many times you press down on that bottle, the scent seems to disappear in a flash. Thankfully, there are some ways to make your perfume last longer in the summer.
So why is it that fragrances seem to evaporate into thin air as soon as the temperature rises? Well, it's all to do with sweat. "Heat and humidity enhance natural sweat that destroys fragrances," master perfumer Francis Kurkdjian explained to Vogue.
Although there's not much you can do about your body's natural sweating function, you can think a little harder about the type of perfume you're using, where you're applying it, and how you're storing those all-important bottles. Turns out that these three things will work wonders when it comes to creating a longer lasting scent.
But what other hacks are there? Well, I scoured the internet for the best tips from fragrance experts that'll leave you smelling fresh all summer long. From belly button application to the usefulness of lip balm, some are admittedly a little weird. Then again, what hack isn't?