71 Weird Domain Names Trump Owns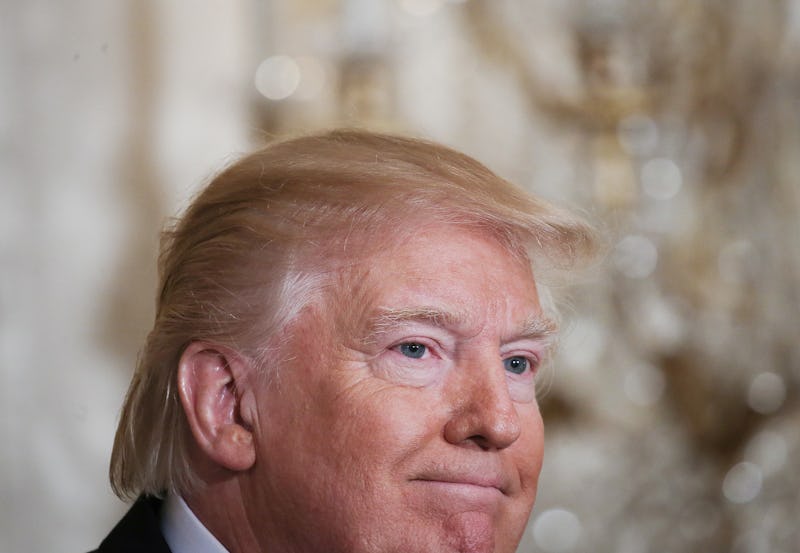 Mario Tama/Getty Images News/Getty Images
Donald Trump's extensive business organization has an even larger online presence, according to a new report compiled by CNNMoney. At least 3,643 websites are registered to Trump's business, with some pretty revealing names. This list of the 71 weirdest domain names Trump owns includes references to his failed business ventures, his early campaign aspirations, and his obsession with controlling his reputation.
Trump bought his very first website in 1997 when he registered the domain DonaldJTrump.com, which still haunts the public to this day. Plenty of his other websites have gone defunct, or were never even operational, like TrumpScam.com. Purchasing sites with potentially derogatory names, like TrumpNetworkFraud.com and TrumpNetworkPyramidScheme.com (both references to the multilevel marketing venture Trump ran for about three years, show a foresight that isn't common in the business world, according to one expert.
"Whoever bought those domains was already thinking those allegations might be raised. Most reputable organizations do not go out and buy these kinds of websites. Most companies are not going to engage in activities that would cause this kind of blowback," Bruce Rubin, a crisis PR expert, told CNNMoney. Trump hasn't had the most ethical business background, and these purchases appear to be evidence that he knowingly works in morally gray areas. These slightly disturbing domain names show how far Trump has gone in the past to make a buck, and how much of his business enterprise has never come to fruition.
TrumportunityKnocks.com
TrumpDoll.com
TrumpOnTheRocks.com
YoureFiredVodka.com
TrumpHomeCrystalGifts.com
TrumpStarterKit.com
TrumpOnIce.com
DonaldTrumpNetworkSucks.com
TrumpFraud.info
TrumpItUp.com
WomanWhoWork.org
TrumpTats.com
PlayWithDonald.com (barf)
DonaldTrumpWontShutUp.com
DonaldTrumpMattress.com
ComplainToTrump.com
How-To-Build-A-Fortune.com
ImBeingSuedByTheDonald.com
TrumpArmy.com
ThinkLikeATrump.com
LiveLikeATrump.com
TrumpaCasaRopadeCamaLatinAmerica.com
TrumpAccesoriosdelBanoDeCasaLatinAmerica.com
TheTrumpFolliesOnBroadway.com
TrumpGrapes.com
YouAndTrump.com
TrumpNetworkMarketingScam.com
TrumpWithATwist.com
TrumpIcecreamParlor.com
TrumpTightEnt.com
Trumpic.com
TrumpWineRatings.com
TrumpFire.com
TrumpNetworkPonziScheme.com
IvankaTrumpEyes.com
TrumpRussia.com
DownloadTheDonald.com
NoMoreTrump.com
Trump2012.com
TrumpEmpire.com
100TrumpParc.com
TrumpHomeMattress.com
TrumpTastingRoom.com
DonaldTrumpArt.com
TrumpAccessories.com
Trump4Green.com
TrumpOfficeForStaples.com
DonaldTrumpSignatureCoffee.com
TrumpBowling.com
TrumpsBlueMonster.com
TrumpPokerGames.com
RingWithTrump.com
TrumpChocolate.com
BarronTrump.com
TrumpTunes.com
BluffTrump.com
IvankaPokerTables.com
TrumpMustGo.com
TrumpJupiter.com
TrumpIsFired.com
TrumpMagic.com
IvankaTump.com
IfYouLoveItOwnIt.com
TrumpNewWorldRed.com
DonaldTrumpBags.com
TrumpSleep.com
TrumpSaudiArabia.com
TrumpLifestyle.com
TrumpGoldBook.com
TristanTrump.com
SocialTrump.com
The full list is available here for your perusal, so go wild. Ultimately, Trump's businesses are a lot less important now that he's president, but you never know what you might find hidden amongst the 95 Trump wine websites.