8 Claims From Trump's Op-Ed About "Medicare For All" That Are Straight-Up Wrong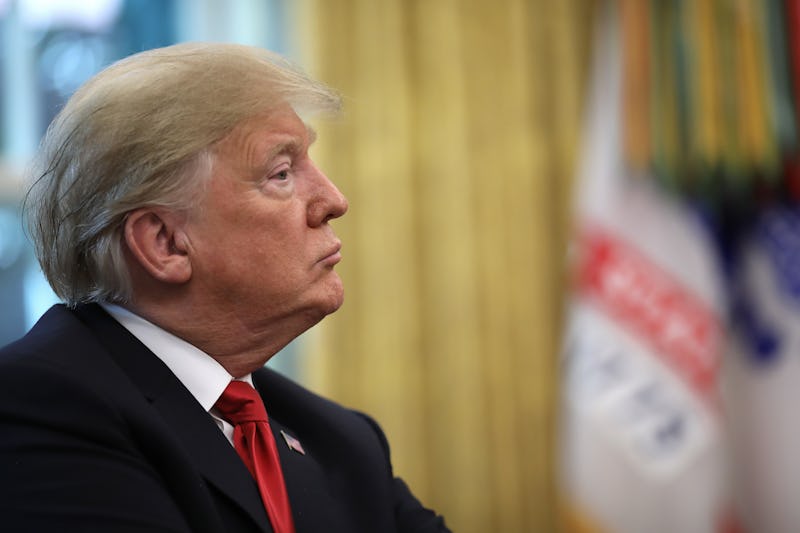 Win McNamee/Getty Images News/Getty Images
On Wednesday, USA Today published an op-ed by President Trump in which he argued against the single-payer health care system that some Democrats have endorsed. Single-payer, also referred to as "Medicare for all," is a system in which the government funds health care for all of its citizens, and a handful of Democrats have recently endorsed it. But there are quite a few inaccuracies in Trump's USA Today op-ed, regarding not only single-payer but his own administration.
It's worth noting off the bat that before he entered politics, Trump supported single-payer health care. In a 2000 book, he wrote that he proclaimed that America "must not allow citizens with medical problems to go untreated because of financial problems or red tape" and heartily endorsed Canada's single-payer system.
"We need, as a nation, to reexamine the single-payer plan, as many individual states are doing," Trump wrote. Needless to say, something clearly changed, as he's now a staunch opponent of single-payer.
Conversely, a lot of Democrats who had long opposed "Medicare for all" now support it. Many credit Bernie Sanders for this. The Vermont Senator ran for president in 2016 on a platform that included single-payer; since then, over 60 percent of House Democrats and many high-profile Democrats in the Senate have embraced single-payer as a health care system to strive for.
Trump has not. However, his reasoning is riddled with errors, and many statements in his op-ed are flat-out false. Here are eight of them.