8 Signs You're Drinking Too Much Coffee, Because These Side-Effects Don't Play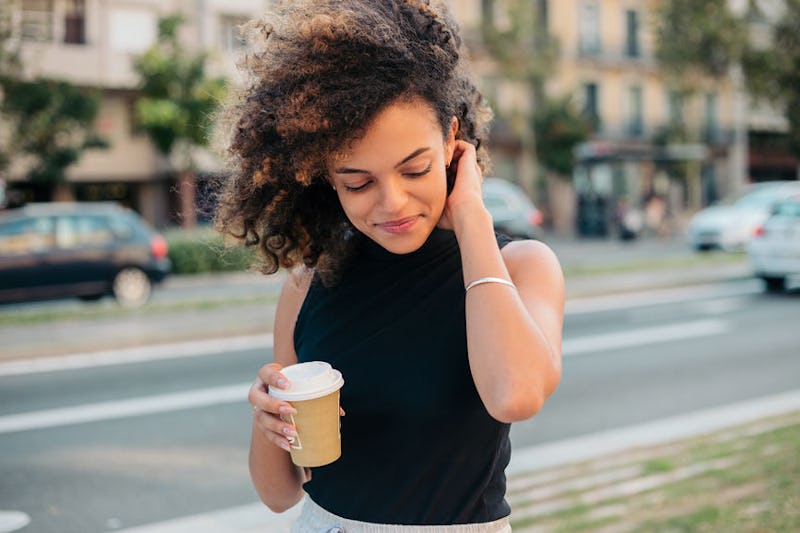 Lucas Ottone/Stocksy
I love my two daily cups of coffee (preferably an almond cappuccino, should anyone wish to buy me one.) It's a ritual for me, an indulgence, the perfect end to both breakfast and lunch. But as much as I love the taste of coffee, honestly, the main reason I drink it is for the caffeine. But there are some other unexpected side effects of drinking coffee you might not be so familiar with, outside of our pure enjoyment of it.
Being the coffee lover that I am, I decided to do some research on my favorite beverage and spoke to some experts. What can I actually expect to happen after downing my (currently iced) coffee? Is all the hype about negative side effects true?
According to Tania Elliot, MD, the answer is yes and no. "Most people think about the impacts of caffeine, the main compound in coffee. But there are other compounds in coffee that can have an effect," Dr. Elliot tells Bustle. "For example, diterpenoids, which are found in unfiltered coffee can increase bad cholesterol (LDL) and lower good cholesterol (HDL)."
But there's a bright side, Dr. Elliot notes. "[The benefits of drinking coffee] include increased alertness, improved memory, cognitive function, and concentration," she says.
And it's delicious to boot! Here are ten consequences of drinking coffee you may not be aware of, according to experts.