8 Coretta Scott King Quotes To Inspire The Resistance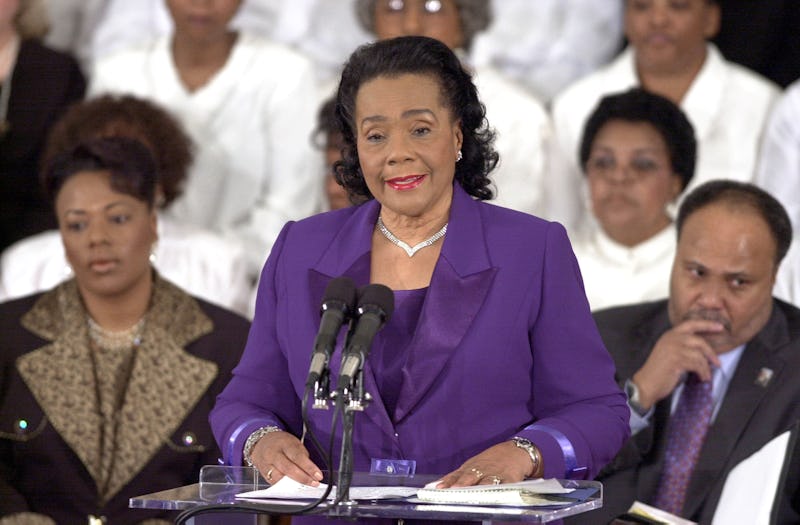 Erik S. Lesser/Getty Images News/Getty Images
Coretta Scott King was, in so many ways, one of the mothers of the civil rights movement. As an author and activist, she worked tirelessly not only to continue the legacy of her late husband, Dr. Martin Luther King, Jr., but also to fight on behalf of civil rights around the world for so many people. On what would have been her 90th birthday, we celebrate the life of this incredible activist by remembering some of her most heartfelt sentiments and staunchest criticisms, and these Coretta Scott King quotes can inspire the resistance to keep fighting.
King's name re-entered the political fray shortly after President Donald Trump took office, when Sen. Elizabeth Warren was barred from reading a letter written by King opposing then-Alabama Attorney General Jeff Sessions' federal judge nomination in 1986. The biting criticism — and Warren's silencing by Senate Majority Leader Mitch McConnell for quoting it — proved to the fledgling resistance against Trump that King's words are as important now as they were 31 years ago, when she first wrote them.
While King's criticism of Sessions is eerily apt given that Sessions is now our country's attorney general, she also made a number of other powerful statements during her long life in activism. Below are some that not only showcase her talent as a speaker and her incredible life, but that are timely in our current political climate.
1. "Women, if the soul of the nation is to be saved, I believe that you must become its soul."
King's understanding of a "woman's place" is timeless. This quote, from the 1970 quote anthology Daughters of the Promised Land, Women in American History, perfectly illustrates King's grasp of her own role and the role of women within activism. With the many apparent attacks on women we face today, it's no wonder why the Women's March chose to use the quote.
2. "If American women would increase their voting turnout by 10 percent, I think we would see an end to all of the budget cuts in programs benefiting women and children."
King's life and tenure in the African-American civil rights movement set the stage for her understanding of the power of voting rights — Marion, Alabama, the city where she went to school, was the site of the brutal police killing of Jimmie Lee Jackson in 1965 following an arrest and subsequent protests in favor of voting rights that are said to have sparked the Selma marches. As a black woman, King was intimately aware of the dual-pronged oppression of both her race and gender, and knew that increased voter turnout could make serious change. With the lessons of the last presidential election behind us, women need to make sure to take the resistance fire to the polls in smaller elections and the 2018 midterms.
3. "I must remind you that starving a child is violence. Suppressing a culture is violence. Neglecting school children is violence. Punishing a mother and her family is violence. Discrimination against a working man is violence. Ghetto housing is violence. Ignoring medical need is violence. Contempt for poverty is violence."
King knew — and personally experienced — the kind of violence that takes many forms. King's work in civil rights included witnessing violence against protesters (including, of course, the assassination of her husband), and this quote is a testament not only to the physical violence so many suffer at the hands of white supremacy, but also the violence in stripping peoples' access to health care, food, and their rights as workers. Unfortunately, all of those appear to be hallmarks of the current Republican platform.
4. "Freedom and justice cannot be parceled out in pieces to suit political convenience."
King's indictment of hypocrisy in favor of political affiliation is as striking today as when she first said it. With so many groups more embattled now than ever before, this call for wholesale justice couldn't be more apt.
5. "Homophobia is like racism...it seeks to dehumanize a group of people, to deny their humanity, their dignity and personhood."
Along with her work advocating for the rights of women and African-Americans, King was also a staunch supporter of LGBT rights and inclusion, and this quote is a favorite of queer and trans groups for its' astute perception of the role of homophobia as a discriminatory tool.
6. Her Entire "Ten Commandments On Vietnam" Speech
Our Congress passes laws which subsidize corporation farms, oil companies, airlines, and houses for suburbia. But when they turn their attention to the poor, they suddenly become concerned about balancing the budget and cut back on the funds for Head Start, Medicare, and mental health appropriations.
On her birthday in 1968, just a few shorts weeks after her husband was assassinated, King gave her famous "Ten Commandments on Vietnam" speech that not only continued her late husband's anti-war legacy, but also spoke to her power as an orator even through her grief. The above quote is one of many from that incredible speech, and is unfortunately apt in light of the goals of our current Congress and the administration it serves.
7. "Struggle is a never ending process."
Resistance, as many of us are learning, is hard. Getting up and reading the news everyday and having yet another thing to fight against is not small task, and King's life and work are a shining example of the persistence we must all exhibit if we are to achieve any gains in this resistance.
8. "I am convinced that the women of the world, united without any regard for national or racial dimensions, can become a most powerful force for international peace and brotherhood."
With the Women's Marches and the "Day Without a Woman" protest, many of us learned what King spoke to in this quote — that women uniting across difference are a force to reckon with.
King is known as the "first lady of civil rights" for a reason — her life, work, and words are as important now as when she died in 2006. May her legacy continue to be one of peace and justice for the struggles of generations to come.