8 Exfoliating Tools That'll Up Your Skin-Care Game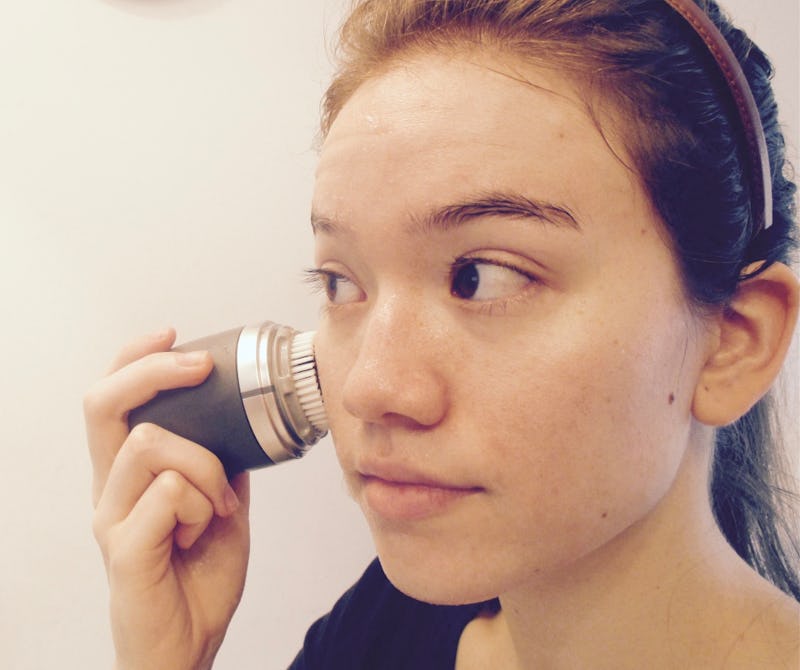 Miki Hayes
While it shouldn't have to be that hard, choosing the best exfoliator can sometimes be a bit involved. If you go for a physical scrub, what types of particles are best? Or if you go the chemical-exfoliator route, should you pick an AHA or BHA? Well, if you want to keep it simple and gentle, an exfoliating tool might actually be the way to go. Instead of scraping or dissolving dead skin and impurities like typical scrubs tend to do, an exfoliating tool can gently buff or massage these particles from your skin.
Especially if you have sensitive skin, those bits of sugar or seeds in physical exfoliants may be too harsh, and certain levels of acids may leave your skin red and raw. But when using a tool like a brush or sponge instead of a scrub, you can better tailor your exfoliating experience. Oftentimes there are different levels of intensity or even materials to choose from. Plus, you can use an exfoliating tool with your favorite cleanser, so you know the experience will always be gentle. So you can have all of the benefits of a scrub without the harsh side effects, here are eight exfoliating tools that you'll definitely want to try:
1. Bristle Brush
Clarisonic Mia Fit, $219, Clarisonic
When it comes to rotating brushes, Clarisonic is a classic. Depending on your skin type and how deep of an exfoliation you prefer, there are different brush head and speed options to play with.
2. Silicone Brush
Foreo Luna 2, $199, Amazon
You can totally tailor your exfoliating experience with these silicone brushes that come in four different types, each geared toward a specific skin-type. Not to mention there are different intensity settings for a customizable cleanse.
3. Pore Brush
Boscia Deep Pore Buffing Brush, $30, Amazon
Made specifically to keep your pores clean, this brush works by gently opening pores and buffing out dirt and oil. Plus, its small size means it can more easily exfoliate areas that are typically hard to reach like the corners around your nose.
4. Konjac Sponge
ArtNaturals Konjac Facial Sponge Set, $14, Amazon
For gentle exfoliation that can be targeted to your skin-type, try a konjac sponge. These sponges, which are actually made from the root of a plant, can carry different infusions such as clay or charcoal to address specific skin concerns, and are gentle enough to use every day.
5. Silicone Pad
SEPHORA COLLECTION Precision Pore Cleansing Pad, $7, Amazon
For an antibacterial option that doesn't need to be charged, try a simple silicone pad. The tiny bristles will help exfoliate and soften the skin. And as long as you keep this tool clean and let it air-dry, you won't have to worry about bacterial growth or needing to replace it every so-many months.
6. Face Mitt
MicrodermaMitt Exfoliating Face Mitt, $30, MicrodermaMitt
Give your fingers the power of exfoliation by slipping on this mitt. It will gently sweep away dead skin with 100-percent-natural floss-silk, and you don't even need to use a cleanser with it.
7. Classic Brush
Dermalogica Exfoliating Face Brush, $18, Amazon
You won't have to worry about over-exfoliating with this traditional, face brush with super-soft bristles. And where exfoliating tools are concerned, it doesn't get much easier than this.
8. Silicone Loofah
Nurse Jamie Exfoliband Silicone Loofah, $17, Dermstore
All skin-types can use this reversible, silicone loofah that easily slips over fingers so you can control your exfoliation. And just like other silicone exfoliating-tools, this one is anti-microbial so you won't have to worry about bacteria building up.
Because the road to fresh and glowing skin doesn't have to be filled with harsh scrubs.