10 Jane Austen Tattoos For The Classic Lit Lover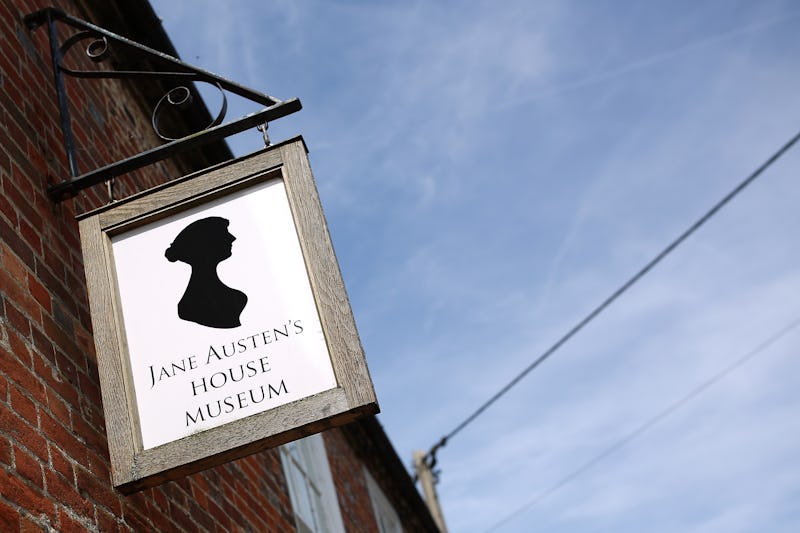 Dan Kitwood/Getty Images News/Getty Images
When you think of the 18th and 19th-century literary romances, the last thing to come to mind is, probably, a needle, ink, and tattoos. That is, if you aren't a Pride and Prejudice fan, because if you're a book-lover, you've drooled over Jane Austen-inspired tattoos before, and probably even fantasized about getting one (or another) of your own.
If you're a die-hard Jane Austen fan and have been since you picked up Emma in high school, then you might have played around with the idea of getting some Austen-inspired ink. Would you pick one of your favorite lines (of which there are dozens that are tattoo-worthy), or would you go with the classic silhouette of the author as a homage to the artwork of her time? From character portraits to book covers to full-on book-themed sleeves, there's no wrong way to get a Jane Austen tattoo that expresses your love — OK, obsession — for the classic author. The real question will be, how do you pick just one?
Since you probably already decided to get a tattoo but can't decide exactly what to get, here are 10 Jane Austen tattoos for the classic lit lover in you. Now isn't the time to be proper, it's the time to get inked.
1. Shadow Silhouette
Simple and tasteful, a classic shadow silhouette of Jane Austen is the perfect tattoo for those who love the author, but couldn't possibly pick a favorite book or line to get inked. Though this one is temporary, it would make a flawless permanent addition.
2. "I Am Half Agony, Half Hope."
If Persuasion is your favorite Austen novel, I'm willing to bet this quote is in your top favorites as well. Powerful and heartfelt, spreading this quote over two wrists is the only way it could get any more perfect.
3. Half Sleeve Portrait
When a quote, a silhouette, and a book cover just don't hack it, you can always go all out with a sleeve dedicated to your favorite author. Now that's true fandom.
4. "Obstinate, headstrong girl!"
Though you might not think of a scolding as a good tattoo choice, this line from Pride and Prejudice is the ideal ink. It's bold, brash, and unapologetic — just like Austen's heroines, and probably just like you, too.
5. A Tribute to Darcy
Though there are plenty of gentlemen in Austen's writing worth swooning over, Mr. Darcy is by far the most worthy of getting a tattoo for. He is, after all, every girl's (OK, every book-loving girl's) first crush.
6. "We Are All Fools In Love."
Jane Austen laid down some serious truth bombs in her books, but this quote from Pride and Prejudice is so universal, honest, and accurate, it practically screams "Pick me, pick me!" from inside the pages.
7. "I Will Be Calm. I Will Be Mistress of Myself."
A serious girl power moment, this Sense and Sensibility quote is the ultimate tattoo for feminist Jane Austen fans. If only I could figure out where to get this one...
8. "You Must Allow Me to Tell You How Ardently I Admire and Love You."
Perhaps one of the most frequently quoted (and frequently inked) lines of Pride and Prejudice, Darcy's proclamation of love for Elizabeth is the perfect tribute to Austen's writing and her beloved characters, in all their quotable glory.
Image: Dan Kitwood/Getty Images