8 Subtle Signs Of Emotional Exhaustion You Might Not Realize You Have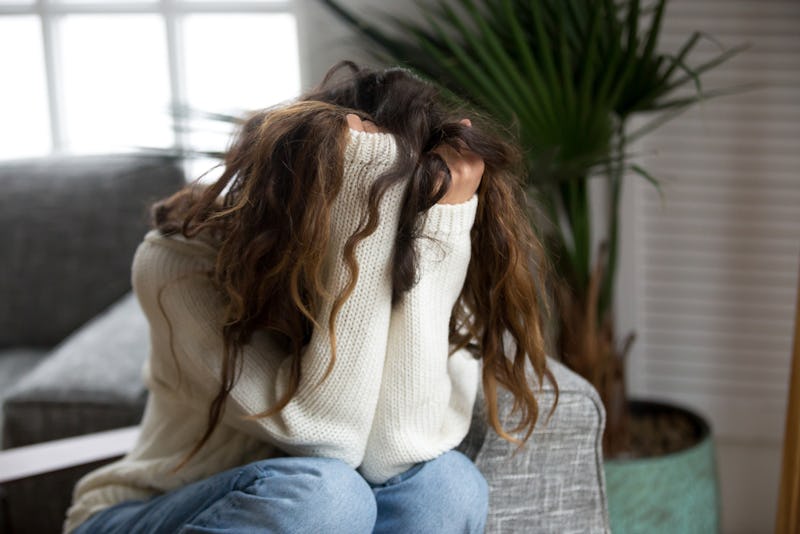 Fizkes/Shutterstock
If you've ever gone through a prolonged period of heavy stress — whether from your job, a relationship, or major life crisis — then it's possible you've experienced emotional exhaustion. And while that might sound kind of vague, it's actually very real. There are some signs of emotional exhaustion that you need to know about, since it can take a serious toll on both your mental and physical health if left unchecked.
"Emotional exhaustion refers to specific state that includes not only physical symptoms of exhaustion, such as fatigue, headaches, sleep difficulties, and appetite changes, but a distinct psychological experience of frustration, low motivation, helplessness, hopelessness," clinical psychologist Deborah Offner, PhD, tells Bustle by email. "Emotional exhaustion is wider ranging and longer lasting than 'a bad week.' It includes a constellation of physical and psychological symptoms that are caused by significant and prolonged stress in our professional or personal lives. Emotional exhaustion is a component of, or may be a precursor to, burnout."
Emotional exhaustion, can leave you feeling emotionally depleted, and really, really tired, HelpGuide says. You might also feel like, as your stress persists, your coping skills fall by the wayside as you get more and more overwhelmed by challenging circumstances. Highly demanding or toxic work environments, intense, long-term relationship stress, and dealing with chronic illness are just a few instances in which burnout can happen. And it's easy to miss the early warning signs that your capacity to cope is getting maxed out. Different life factors can mean that your stress resilience is stronger at some times, but less so at others. Essentially, we all have limits to how many curveballs we can juggle before something's got to give. If you know that your stress levels are on blast constantly, here are some symptoms of emotional exhaustion to watch out for.