8 Medical ID Bracelets That Are Stylish & Can Be Personalized To Your Needs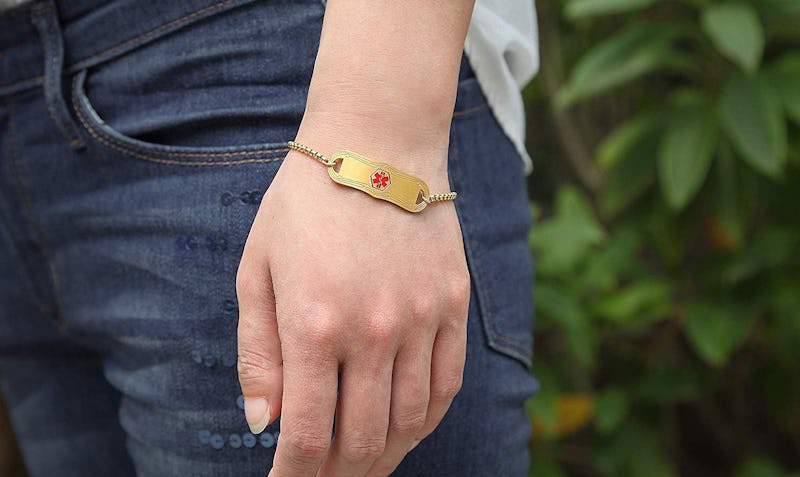 Amazon
If you suffer from any life-threatening medical condition, then you know: Wearing a medical alert bracelet is often not optional. But, that doesn't mean you have to wear a piece of jewelry you don't love. Nowadays there are plenty of stylish medical alert bracelets you can buy.
When shopping, keep your own style preferences in mind. A medical alert bracelet is only useful if you actually wear it, so style is important. There are a lot of designs in either a classic metal like gold, silver, or rose gold to match your existing jewelry. But, if you know you're going to be sweating a lot or want one you can wear in the water, consider a silicone band that's waterproof.
Since medical alert bracelets have plaques attached that declare any existing health conditions or life-threatening allergies you might have, you'll want to get yours personalized. While these plaques can also include additional information like emergency contacts, experts recommend limiting the amount of writing you include to just the necessities in order to make it easier for emergency medical personnel to clearly read your bracelet. If you're not sure, American Medical ID has more information on what to include on your medical alert bracelet.
As you scan the list of the stylish medical alert and ID bracelets below, you'll see options ranging from a chrome cuff to a wood beaded bracelet to cater to all styles and preferences. Bonus: All of the options below offer complimentary engraving, so you can include your personalized identification free of charge.