8 Things You Should Discuss Before Moving In With A Roommate, According To An Expert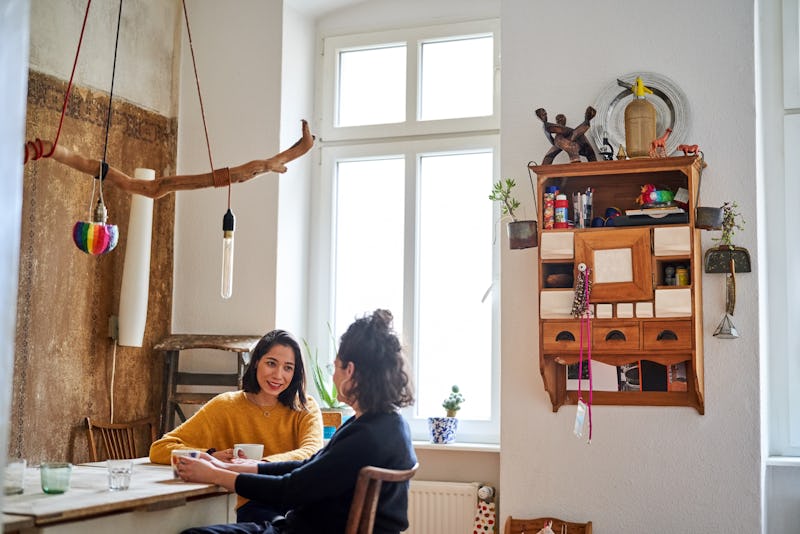 Portra/E+/Getty Images
So, you've decided to move in with someone — congratulations! You're in good company. According to the U.S. Census Bureau, between 1970 and 2012, the percentage of Americans between the ages of 18 to 44 in non-family households rose from 1.7 to 6.1, and more recent studies put the number at 7.4 percent. But whether it's a romantic partner, a classmate, a friend, a friend of a friend's cousin twice-removed, or a total stranger, there are some things you should probably discuss with your roommate before move-in day.
Regardless of whether you're tidy, messy, quiet, or party animals, the key to a successful roommate relationship is knowing what is expected of you, and what you expect from a roommate. In order for this to work, open and honest communication is key, and you need to be clear about what you want from a living situation.
"Non-negotiables can go beyond choosing an apartment," Ashley Feinstein Gerstley, founder of the Fiscal Femme, told Bustle. "If hiring a cleaning person is a nonnegotiable to you, that's something to discuss. If you can't live without premium channels, that's helpful to bring up in advance."
What's more, it's a good idea to have a plan for how to communicate going forward, especially when it comes to sensitive topics like money.
Check out the entire 'Young Money' series and other videos on Facebook and the Bustle app across Apple TV, Roku, and Amazon Fire TV.
"Once you discuss your what, who, and how you will be in great shape right now but you want to also have a plan for bringing up money conversations in the future," says Gerstley. "I recommend having monthly or quarterly money check-ins with your roomie(s) to see how everything is going. Was everything paid on time? Is there a more efficient way to do it? Any concerns you'd like to discuss? This keeps an open dialog and prevents resentment from popping up over time."
So, with that in mind, here are some specific topics to discuss before moving in with someone.