How To Feel Secure In Public Spaces After The Manchester Attack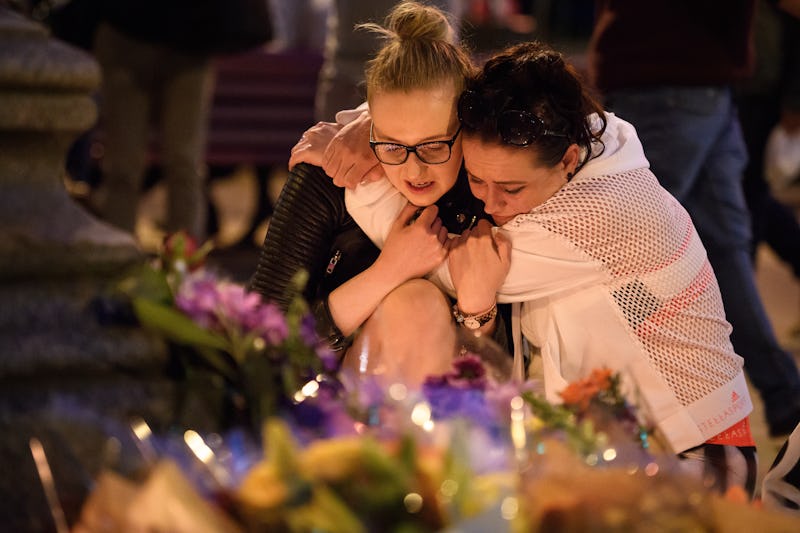 Leon Neal/Getty Images News/Getty Images
News of the terrorist attack in Manchester, England on Monday evening has been almost unthinkable. A suicide bomber stood outside of a crowded exit at an Ariana Grande concert — a venue filled with predominantly teenage girls — and detonated a bomb that killed 22 concertgoers and injured over 50 others. For many, this is yet another reminder that no public space is safe, and that terror can strike in even the most unlikely places. But you shouldn't let fear keep you from living your life; in fact, there are many ways to feel safe in public spaces after the Manchester attack, so that you can continue to find joy and positivity in everyday activities without overwhelming yourself about what might happen.
The terror attack in Manchester is just the latest in a heartbreaking string of incidents of innocent civilians losing their lives while simply living them. The 2013 Boston Marathon bombing, the 2015 Paris attacks, and the 2016 Orlando nightclub shooting may make you feel like you should be fearful and suspicious anytime you're in public. Maybe they make you feel like you shouldn't go out in public at all. But the most powerful response that we can have to terror is moving forward.
If you're still having trouble doing this after the devastating news of the Manchester bombing, here are a few ways you can manage your anxiety in public places so you can continue living your life with joy. It's the most resilient thing you can do.