8 Ways To Participate In Trans Visibility Day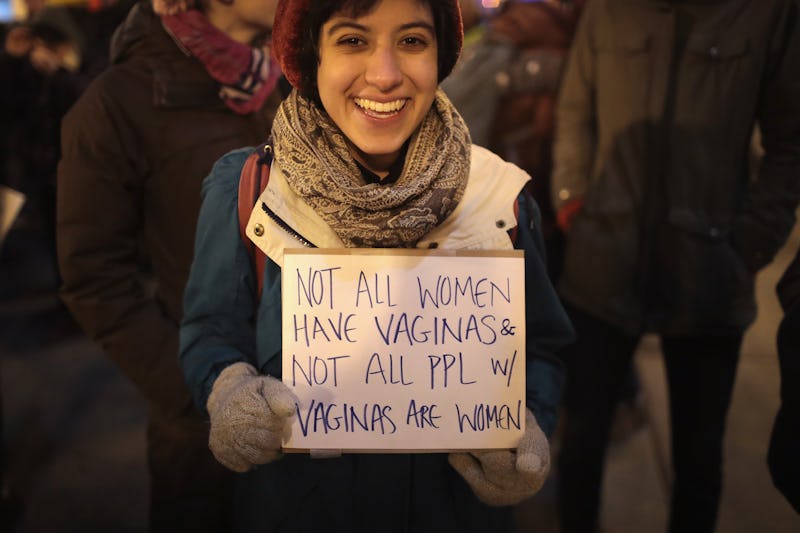 Scott Olson/Getty Images News/Getty Images
Let's make March 31, the seventh annual Transgender Day of Visibility (TDOV), an experience that transcends the disappointment of the last few months under President Trump by bringing attention to the accomplishments of trans people around the globe while fighting cissexism and transphobia. Ways to participate in Transgender Day of Visibility focus on the theme trans resistance. This is a day to elevate trans accomplishments (hashtag #TransResistance or #TDOV on social media), and raise overall awareness for the trans community.
"In the increasingly transphobic global political climate, we must use our newfound visibility to mobilize trans people against oppression. Speaking out, taking direct action, and educating others is critical to our safety and wellbeing," according to a statement on the Trans Student Educational Resources website. "This recognizes that while visibility is important, we must take action against transphobia. Visibility is not enough alone to bring transgender liberation. However, we can use visibility as a vital tool for transgender justice."
Rachel Crandall, the head of Transgender Michigan, created TDOV in 2010. The day takes place each year on March 31. If you want to get involved in raising awareness, celebrating accomplishments, or highlighting trans issues, here are eight ways you can participate in TDOV.