8 Ways To Support Planned Parenthood This Year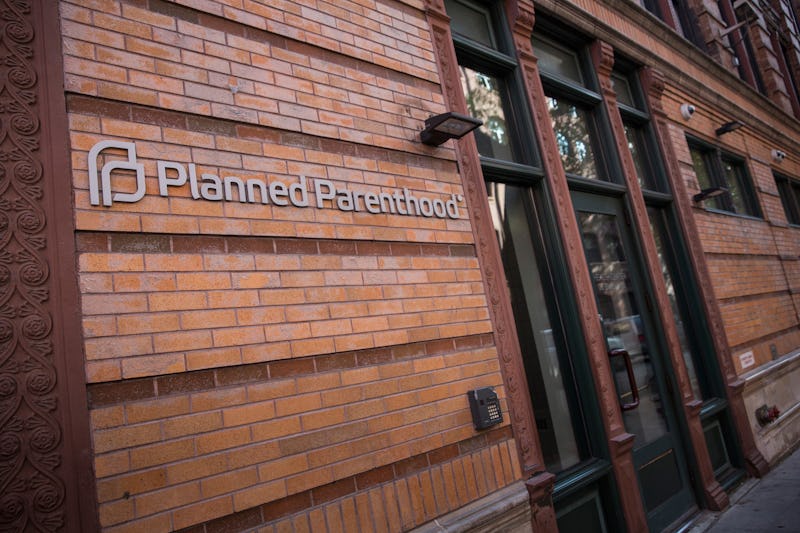 Andrew Burton/Getty Images News/Getty Images
Later this month two men who have threatened to defund Planned Parenthood will be sworn in as the president and vice president of the United States. Meaning it's more important than ever to find ways to support one of America's leading providers of affordable health care. For many, the election of Donald Trump appears to pose a serious threat to both affordable health care and women's reproductive rights. Perhaps no health care organization is as threatened by Trump's presidency, however, as the 100-year-old nonprofit, making it vital to find ways to support Planned Parenthood this year. Update: On Thursday, House Speaker Paul Ryan announced that Republicans will aim to strip PP of its federal funding.
Each year Planned Parenthood provides much-needed preventative care, including more than 360,000 breast exams, more than 270,000 Pap smears, and more than 650,000 HIV tests. The organization estimates that one out of every five U.S. women have visited a Planned Parenthood health center at least once, with many of them receiving contraceptive services they might not otherwise be able to afford.
Moreover, studies by the Guttmacher Institute, a leading research and policy organization with a focus on reproductive health, have shown that many of the services provided by Planned Parenthood do more than just save lives. They save money. According to a 2006 study from the institute, every $1 of public money used to invest in the family planning services offered by organizations like Planned Parenthood saves nearly $4 in costly treatments and procedures later.
So what steps can you take to support Planned Parenthood in the new year? Here are eight easy ways to help.
1. Donate To Planned Parenthood Directly
Those with the financial means to do so might consider starting the year off with a direct donation to Planned Parenthood health centers or the Planned Parenthood Action Fund, which serves as the nonpartisan political and advocacy arm of the health care organization.
2. Give Mike Pence A Ring
Call, write, or even tweet Vice President-elect Mike Pence to tell him you don't support his plans to defund Planned Parenthood and limit access to affordable health care. To get your message across to Pence in a more creative way, consider making a donation to Planned Parenthood in his name and having a notification of the contribution mailed to his office.
3. Volunteer With Planned Parenthood
There's more than one way to volunteer with Planned Parenthood. Anyone wanting to lend a hand on the ground can look into volunteering at their local Planned Parenthood clinic with this handy website. Those who'd prefer to become involved in political activism efforts might want to volunteer with the Planned Parenthood Action Fund.
4. Schedule A Visit
One of the best ways you can show your support for Planned Parenthood is to make an appointment for yourself (and your reproductive health) at your local clinic.
5. Get The Word Out
There's no such thing as talking too much about women's reproductive rights or access to affordable health care. In fact, it's more important than ever to correct the spread of misinformation by those pushing to defund Planned Parenthood and voice your support for the organization both online and in real life. As a first step you can share your support for Planned Parenthood's #WeWontGoBack message on social media. Then use this guide to reach out to friends and family about why you feel it's important to see Planned Parenthood protected.
6. Become A Clinic Escort
As attacks on Planned Parenthood ramp up in Washington so too do protests against local clinics, meaning clinic escorts are needed now more than ever. Take the pledge to join Planned Parenthood's Clinic Defender program and help ensure health care centers remain welcoming and safe places for vulnerable patients.
7. Shop Where Planned Parenthood Will Feel It
Consider purchasing items whose proceeds benefit Planned Parenthood. For example, 100 percent of the proceeds from this "We Who Choose To Stay and Fight" tote by Ginger Haus go to the health care organization. As do 50 percent of the proceeds from Google Ghost's "Nasty Woman" tee and 25 percent of the "The Future Is Female" tee by Otherwild.
8. Show Up
Sign up for emails from the Planned Parenthood Action Fund to stay up to date on ways you can engage in campaigns aimed at protecting reproductive rights. Attend or help organize protests or rallies when Planned Parenthood health centers in your area are threatened because one of the best ways we can help protect the organization is to stand with them in their hour of need.