This 85-Year-Old Just Closed A PFW Show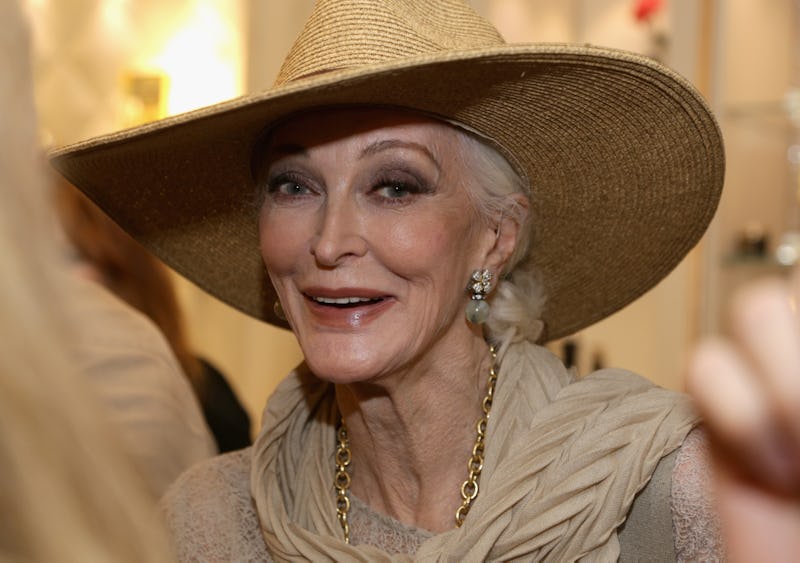 Anna Webber/Getty Images Entertainment/Getty Images
When you think of the most popular models of the moment, names like Kendall Jenner and Gigi Hadid come to mind. Well, move over 20-somethings, because this woman could teach others a thing or two it on the runway. At the age of 85, Carmen Dell'Orefice closed Guo Pei's Spring Summer 2017 show at Paris Fashion Week. This is far from her first runway show, but Twitter is loving her latest gig.
An 85-year-old model taking the runway is not the norm, considering that the industry tends to favor youth and fresh new faces. Heck, Miranda Kerr even told the Daily Mail that some models retire at the age of just 28. But Dell'Orefice is proof that age is nothing but a number. She hit the runway in an all red gown with a matching crown with two men by her side. Believe me when I say that she deserved the crown, because this woman is a queen.
This isn't her first time in the spotlight, though. According to Vogue, Dell'Orefice appeared on four covers and multiple runway shows for designers like Isaac Mizrahi, Gianfranco Ferré, and Thierry Mugler. The publication says that what makes her so great is her ability to change her look. "There's nothing nostalgic about her look," Vogue says in an article. "Dell'Orefice has changed with the time, making her not so much a classic beauty, but an iconic one."
SLAY! To say that people are loving this model moment is an understatement. Twitter is going crazy with praise for the 85-year-old model. Here's what fans have to say.
Yes, she is.
I think I just found my new hobby.
Definitely an icon.
Truth.
An inspiration to all. Not even just models.
Something tells me that this won't be her last booking either.