9 Books To Help You Understand The Gun Control Argument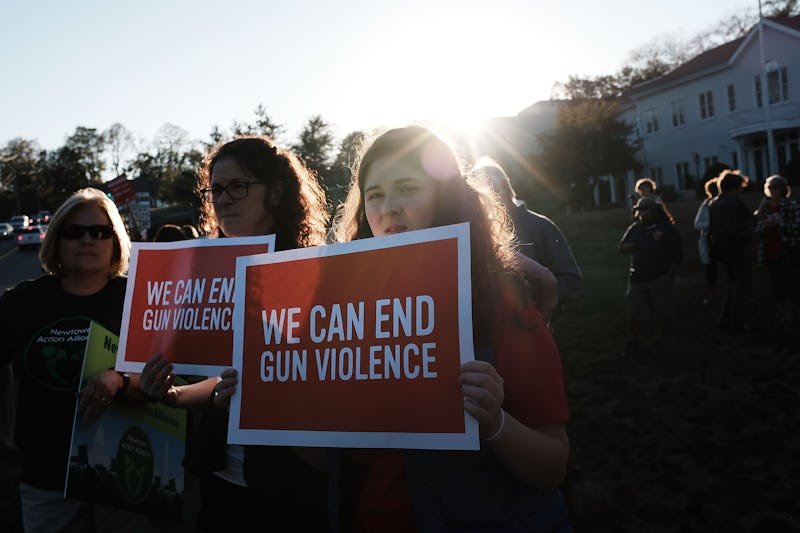 Spencer Platt/Getty Images News/Getty Images
In a moment of irony — or, perhaps, whatever the opposite of irony is — I'm writing this as I listen to my neighbor fire several rounds of buckshot into the left turn ahead sign posted at the end of our street. It's a weekend ritual, several rounds fired at the sign until it's a splash of white pockmarks that some traffic control employee replaces every few months, in case anyone unfamiliar with local traffic patterns would like to turn left at some point. This rural, southern town where I currently reside couldn't be more different from Chicago, the city where I was born and lived the first 25 years of my life. In Chicago, through the gun violence is pervasive and I knew people who had been shot and even killed just going about their daily business, I had never actually been in the presence of a firearm (at least, to my knowledge) until I moved 850 miles southeast, and into a town where gun violence hardly ever makes headlines, but where open carry holsters are common and everything from wayward squirrels to particularly raucous mosquitoes become subject to deadly fire. It's noteworthy that both of these places, culturally and politically different as they may seem, are equally ruled by guns. And both have been central to the formation of my beliefs regarding gun control, gun ownership, and the whole of American gun culture.
The debates surrounding gun control are noisy — perhaps they're designed to be, in hopes that if we can just get one another yelling loud enough, it will create the illusion that something is happening, without anyone actually having to do much of anything at all. Though we bear witness to mass shootings with startling regularity, nothing changes in American gun law or culture. Nothing has changed, on either front, in years, except the number of Americans killed by guns — more than anyone else, anywhere else in the world, outside of Central America and the Caribbean, where most of the violence is attributed to gangs and drug trafficking.
But you don't need me to tell you the stats. We've become so polarized on the issue of gun control in this country, chances are if you've managed to read this far without rage-Tweeting me, I'm probably preaching to the choir. The choir, however, can always fortify itself with more information.
So, here are nine books that prove we need stricter gun laws in the United States (if the headlines don't have you convinced already, that is.)