9 Celebrities Whose #MeToo Tweets Lay Bare The Everyday Reality Of Sexual Assault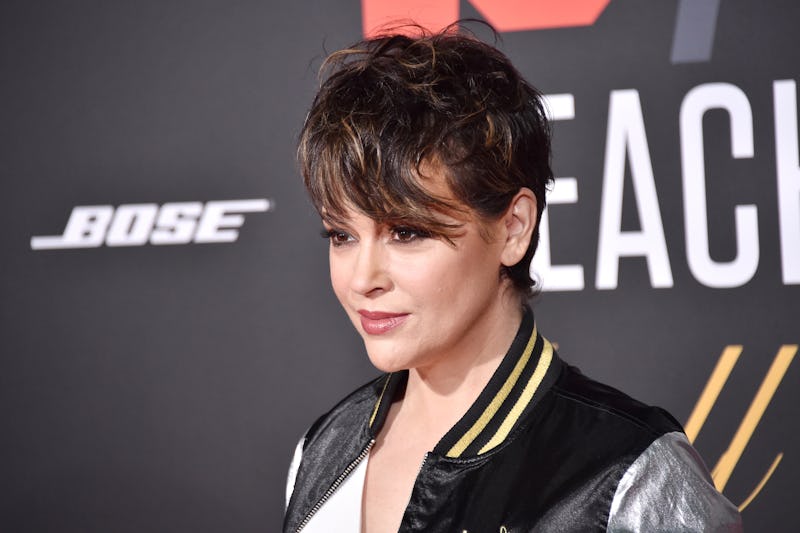 Mike Coppola/Getty Images Entertainment/Getty Images
Sexual abuse is extremely common, but as the Harvey Weinstein scandal demonstrated, many people either don't know that, or, in some cases, don't care to know. On Sunday, in an attempt to educate the masses about the true scope of the problem, sexual assault and harassment survivors tweeted with the #MeToo hashtag and told their stories. The social media campaign quickly gained steam, and many celebrities sent Me Too tweets as well — a stark reminder that even the rich and famous can be victims of sexual abuse.
It's unclear who started the Me Too campaign. It was referenced on Twitter at least once on Saturday, and then given a significant boost by Alyssa Milano a day later. The thinking behind it is simple: If a great number of sexual assault and harassment victims are vocal about their experiences all at once, it becomes that much harder for skeptics to insist, for instance, that sexual abuse is a relatively uncommon phenomenon (which it isn't), or that certain people are somehow immune from having to worry about becoming victims.
The campaign is still ongoing, and it's going strong. In addition to the many everyday folk who used the hashtag, a handful of celebrities sent Me Too tweets as well. Here are some of the most notable ones.
Alyssa Milano
Milano was one of the first celebrities to popularize #MeToo. Explaining that she got the idea from a friend, the Charmed star encouraged her 3.2 million followers to write "me too" in response to her tweet if they had been sexually assaulted or harassed — and then immediately replied "me too" to her own tweet.
Lady Gaga
Lady Gaga has been outspoken about her experiences as a rape survivor, so it's no surprise that she was one of the first celebrities to join the #MeToo campaign.
Gabrielle Union
Actress Gabrielle Union spoke openly about her own assault in 2016, and has become a forceful advocate for sexual assault victims. In this tweet, she noted that statistics on rape and sexual assault almost always understate the true number of victims.
Anna Paquin
The star of X-Men, True Blood and Fly Away Home replied to Milano's tweet with a "Me Too" as well.
Patricia Arquette
Boyhood actress Patricia Arquette also tweeted the simple, two-word message (or single-hashtag message, depending on how you look at it) on Sunday. Days earlier, speaking in the context of the Weinstein scandal, Arquette wrote about a "weird" experience she says she had with director Oliver Stone.
Lane Moore
Comedian Lane Moore used the #MeToo hashtag for a slightly different but no less important purpose, pointing out that in an ideal world, women would be writing "me too" to indicate that they "finally feel safe in the world."
Gretchen Carlson
Former Fox News anchor Gretchen Carlson made headlines in 2016 when she filed a sexual harassment lawsuit against Roger Ailes, the channel's CEO. The New York Times reported that Fox paid Carlson $20 million to settle the case. That would be one of the largest-known settlements of a single-plaintiff sexual harassment lawsuit — and yet only half of the reported $40 million payout Ailes himself received when he was ousted from Fox over the allegations.
Debra Messing
Will & Grace star Debra Messing replied to Milano's tweet with a "Me too" as well.
Kimya Dawson
Moldy Peaches singer Kimya Dawson sent a Me Too tweet, alongside a picture of a foot with those same words on it.
Although it can be uncomfortable to talk about sexual abuse, these conversations need to be had. It's impossible to solve a problem without first identifying and then shining a spotlight on it, and the Me Too campaign is playing an important role in both.