9 Food Subscription Boxes If You Can't Get A Time Slot On Delivery Apps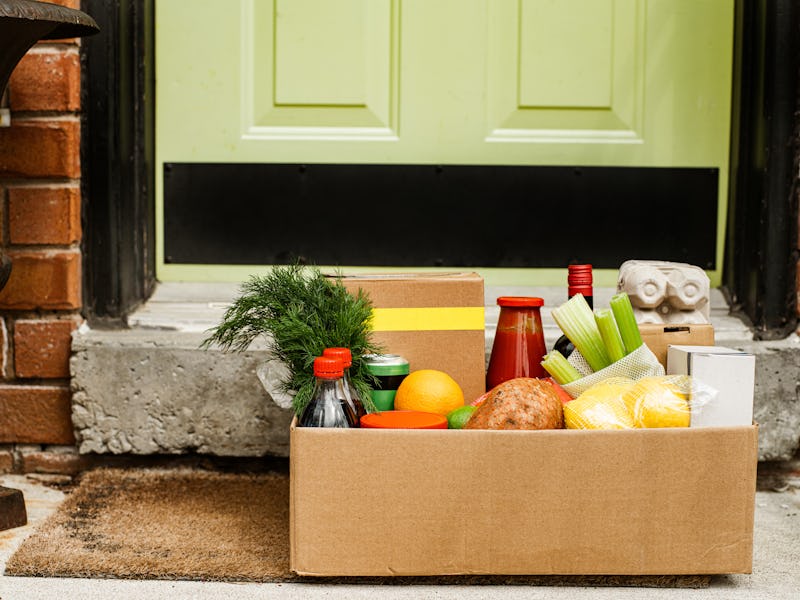 Sisoje/E+/Getty Images
As we continue to manage the COVID-19 outbreak, finding ways to safely buy groceries has become the new normal. Necessities like flour and toilet paper running low, hour-long lines to get into the grocery store, or forgoing shopping trips to get groceries delivered have become routine. If you're looking for ways to get groceries when delivery slots are full, food subscription boxes may be the solution you seek.
While much of the country continues sheltering-in-place, the need for food and grocery delivery services has skyrocketed. However, shopping services like Instacart have workers going on strike due to unsafe working conditions and unfair pay. Fortunately, there are still ways to get groceries without crossing the picket line.
With their increased popularity in recent years, food subscription services now run the gamut from standard at-home meal kits to gourmet meals you can make at home to wine delivery boxes to hyper-specific snacking options. Of course, food subscription boxes aren't always the most cost-effective alternative to buying groceries in-store. While a $14.99 meal at-home may be comparable to what you could get at a restaurant, that's a steep increase from the couple of dollars a meal made from groceries would cost. With that in mind, here are nine relatively affordable food subscription boxes when you aren't able to get a slot on grocery delivery.