9 Grounding Yoga Poses That'll Help You Feel More Aware Of Your Body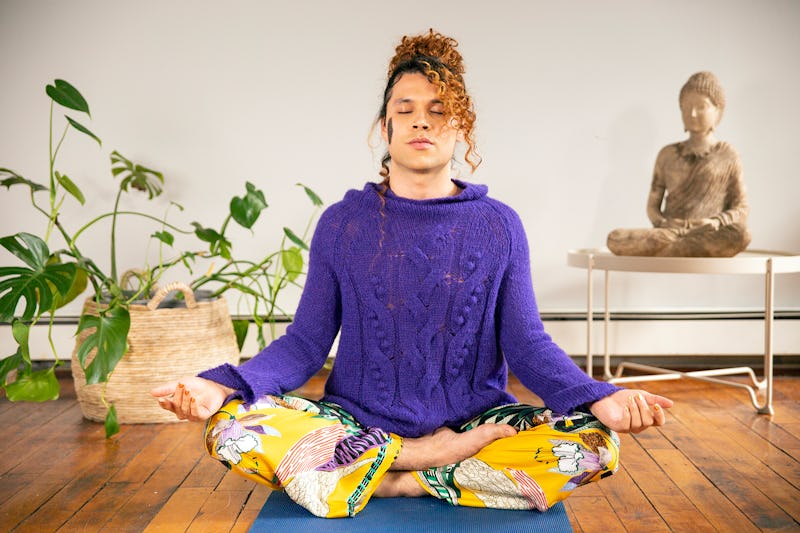 Zackary Drucker/The Gender Spectrum Collection
When life gets hectic and overwhelming, it's difficult not to get stuck in your head — overthinking if your Slack to your boss was sufficiently casual, obsessing over having to go to another brunch with tier three friends, and so on. This can lead to feeling like you're on autopilot or out-of-tune with your body. When you begin to feel disconnected, bringing yourself back to Earth, so to speak, can alleviate some of that everyday stress and stop the pattern of overthinking. Whether you're at home, or even on your lunch break, there are grounding yoga poses that'll help you feel more aware of your body you can try.
"The idea of feeling 'grounded' isn't just yoga teacher speak. It's actually a very important concept when it comes to our overall health and wellbeing," Kelsey Ravlich, a yoga teacher based in Calgary, Canada, who's featured on the Livekick fitness app, tells Bustle via email. "As humans, we spend many hours in our heads. We're thinking, stressing, worrying, wondering, imagining, [....] ultimately it means we're directing our energy upwards." She says that spending so much time in your head can exacerbate anxiety. Instead, "Being grounded is about refocusing our energy in a downward direction."
Grounding is a technique that is also commonly suggested by mental health professionals. As Psychology Today reported, different coping skills — such as mindfulness, spending time in nature, or writing — can help ground you if you're feeling out-of-touch with yourself. What's more, a 2015 found that a particular type of grounding, called "Earthing," where you quite literally sit on the bare ground, had a positive impact on mood.
While certain grounding techniques or yoga poses may not be effective for everyone, finding a few go-to skills that can keep you from feeling burnt out is key to awareness. According to yoga instructors, these nine calming yoga poses can leave you feeling more grounded throughout a frantic day.