9 Furniture Pairing Ideas That Seem Like They Wouldn't Make Sense, But Totally Do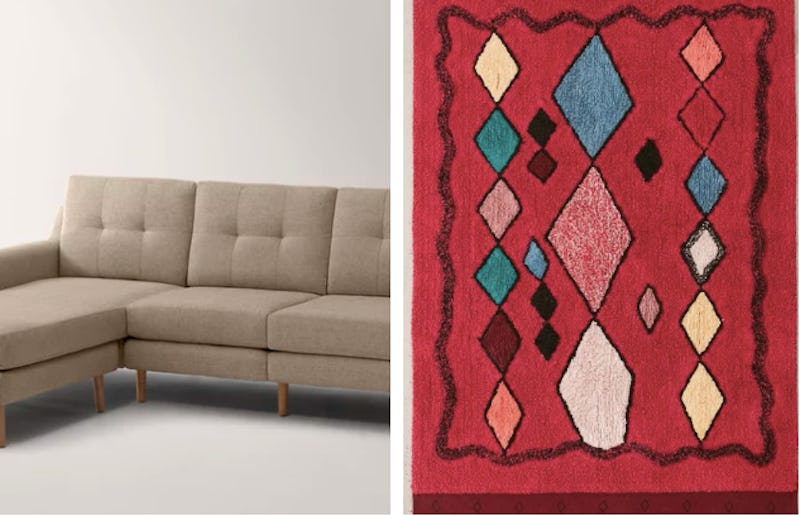 ‌When it comes to decorating, people tend to think they have to choose between neutral and bold styles of furniture, because otherwise their home will "clash." But the truth it, mixing subtle pieces with loud pieces can create harmony in a space — so long as it's done with elegance and intention. To prove it, I've put together a list of neutral and bold furniture pieces that actually look good together, because seeing is believing.
You can totally have that muted, cozy vibe at home while also incorporating a few accent pieces that won't take away from any of the hygge you've already achieved. Unlikely combinations don't always lead to clashing, so surprise yourself and take risks. When you mix together too many mellow pieces, they tend to become less noticeable. Why spend a lot of money on a stunning beige sofa if you're you're to barely see it when you walk in a room because everything else there is beige, too? Add an exciting rug or some flashy throw pillows to give the sofa a bit of definition. Little adjustments can help you make a vibe more dynamic and sustainable, because honestly who wants to redecorate every few months?
Here I've paired neutral toned and themed pieces with opposite or accent pieces that really help each other to stand out. It might not be obvious that pairing a chic and classic chair with a bold and abstract side table works, but trust me, it does. Add a little yin to your yang, or yang to your yin and revamp your home decor game by taking a chance. Here are some bold and basic suggestions.
Low Key Desk & High Key Chair
A Neutral Couch & A Bold Rug
Bright Pillows & Muted Bedclothes
Pale Accent Chair & Standout Side Table
Natural Floor Pillow & Wild Rug
Flashy Frame & On A Subtle Print
Youthful Wall Covering & A Mature Headboard
Surf & Turf Dish Combo
Muted Vase & Bold Arrangement