9 Horrifying Things Judges Have Said To Sexual Assault Victims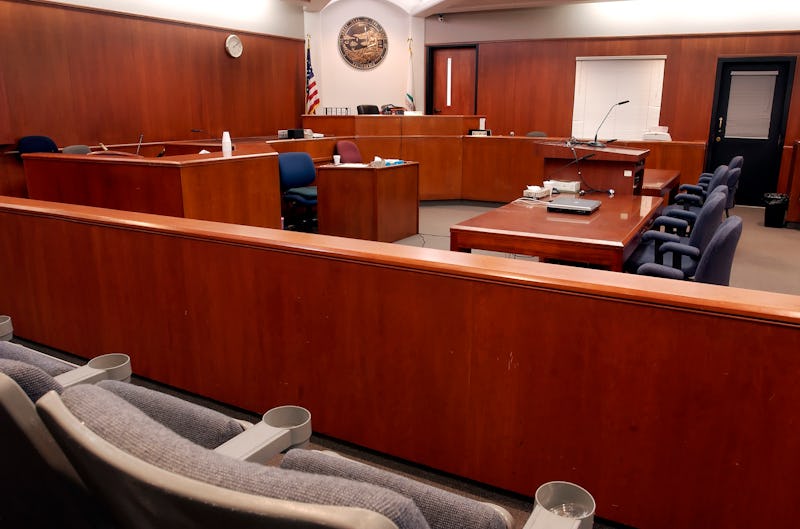 Pool/Getty Images Entertainment/Getty Images
Victims of sexual assault today are unfortunately often subject to "re-victimization" by the very justice system meant to protect them. There are myriad examples of this, from victims' treatment by police to their treatment in the courtroom. Sadly, even the judges ruling on sexual assault cases have said some utterly infuriating things about victims, and even about those accused of sexual assault, which reflect the many problems that still exist in achieving veritable justice for victims.
Indeed, a legislator in Canada recently officially acknowledged the pervasive problem of courtroom insensitivity toward sexual assault victims and introduced a bill that would require "mandatory training for would-be judges on issues surrounding sexual assault." In describing why she introduced the bill, Interim Conservative leader Rona Ambrose indicated that "many Canadians would be surprised to learn that a lawyer doesn't need any experience in the sensitivities of sexual assault cases to become a judge overseeing these types of challenging trials... There currently is also no mandatory training for sitting judges. We need to build confidence in our system so more sexual assault survivors feel comfortable coming forward."
While the United States does not have a similar judicial sensitivity training bill pending, some of the quotes from judges below indicate that it, and many other countries, should probably strongly consider mandating that all judges are trained in dealing with sexual assault cases in a sensitive and professional manner. Unfortunately, the comments made by judges that were compiled for this list reflect just the opposite of sensitivity and professionalism, and at times constitute downright inappropriate remarks to victims of sexual assault.
1. The Body Can "Shut Rape Down"
In a 2008 rape and assault case, California Judge Derek Johnson said, "I'm not a gynecologist, but I can tell you something. If someone doesn't want to have sexual intercourse, the body shuts down. The body will not permit that to happen unless a lot of damage is inflicted, and we heard nothing about that in this case. ... That tells me that the victim in this case, although she wasn't necessarily willing, she didn't put up a fight."
He was later publicly admonished for his comments by the California Commission on Judicial Performance.
2. Drunkeness and Consent
While acquitting a cab driver who was accused of sexually assaulting an unconscious woman, Canadian Justice Greg Lenehan said in March 2017, "Clearly, a drunk can consent."
3. Victim Blaming And Praising The Offender
State District Judge Jeanine Howard of Texas made some horrific statements in 2014 when describing why she sentenced a convicted rapist to probation. She said the victim had agreed to have sex with the offender and cited her sexual history as part of the rationale for why Howard believed the accuser "wasn't the victim she claimed to be." She also said of the accused, "He is not your typical sex offender."
The judge was later rebuked by the State Commission on Judicial Conduct for her "reckless" remark.
4. What The Victim "Should" Have Done
Among Canadian judge Robin Camp's comments to a victim in a sexual assault case in 2016 include, "Why couldn't you just keep your knees together?", "Why didn't you just sink your bottom down into the basin so he couldn't penetrate you?", and, the kicker, "Pain and sex sometimes go together." Camp later resigned after a 15-month review found that he had engaged in victim blaming throughout the trial.
5. It's The "Victim's Fault"
She has admitted that she used to do all dirty things. It appears that she was inherently abnormal and had sexual instinct from her childhood, in all probabilities because of the environment and atmosphere in which she lived and because of the conduct of her mother.
Indian High Court Justice Sadhana Jadhav made those remarks in 2017 after granting bail to a stepfather who was accused of sexually abusing his minor daughter. Jadhav later expunged her own comments from the record.
6. A Good Man?
During a convicted rapist's sentencing in 2017, Utah Judge Thomas Low appeared to praise the man. "The court has no doubt that Mr Vallejo is an extraordinarily good man... But great men sometimes do bad things."
7. "Control" Of The Situation
The victim "was probably as much in control of the situation as was the defendant," Judge G. Todd Baugh said in 2013. Baugh was giving his explanation on why he sentenced a teacher who pled guilty to raping a 14-year-old student to only 31 days in prison. Baugh later faced suspension and public censure by the Montana Supreme Court and apologized for his words.
8. Learning A Lesson
If you wouldn't have been there that night, none of this would have happened to you...
I hope you look at what you've been through and try to take something positive out of it...
You learned a lesson about friendship and you learned a lesson about vulnerability...
Those were Judge Jacqueline Hatch's words to a victim of sexual abuse by a police officer in 2012. The officer was not sentenced to jail time, despite his conviction. Hatch later apologized to the victim for her comments.
9. The Victim's "Responsibility" To Stop Rape
"Did you close your legs firmly? Did you close off your female organs?" asked Spanish judge María del Carmen Molina Mansilla as a rape victim provided testimony to the judge during a request for a restraining order against her alleged abuser. A formal complaint about the judge's conduct was subsequently filed with Spain's General Council of the Judiciary.
Overall, these comments serve to illustrate why justice systems — and judges — around the world still need profound improvements in how they treat victims of rape and sexual assault. It is utterly atrocious that victims have had to endure comments like these, and changes must be made to ensure that sexual assault victims are not put through "re-victimization" as they go through court proceedings.