9 Ways To Use Millennial Pink In Your Beauty Routine & Never Let The Trend Die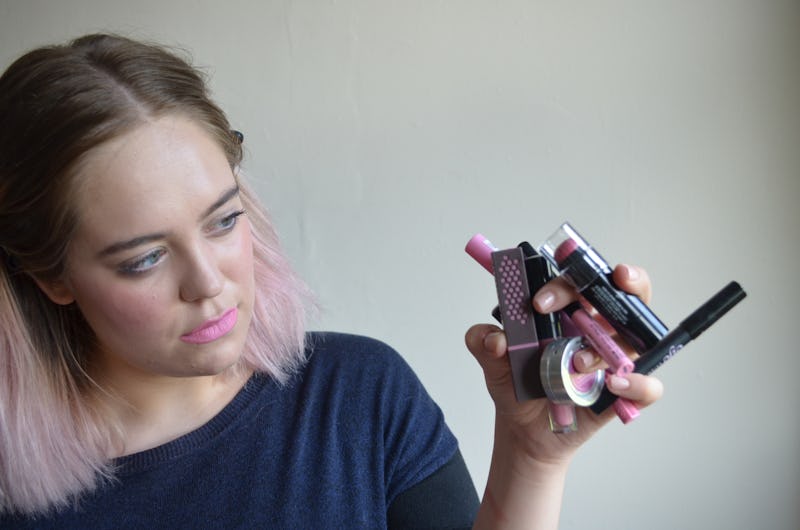 There's nothing that screams "I reached young adulthood in the early 21st century" quite like millennial pink. The shade pales pink up and takes away the treacly bubblegum factor, and it's also become synonymous with being young and cool.
The thing is, pink has always been a staple shade in makeup. Adding a rosy tint to cheeks or lips has been a one way ticket to looking more perky, fresh-faced, and polished. Because it's a shade that naturally occurs on the face (think blushing, being too hot, biting your lips and other such glamorous instances), it's almost like makeup's staple shade.
In terms of where to wear pink, there are thee traditional pink placements, like lips and cheeks. But there are also places you'd less commonly think of as benefiting from pinking up — eyeliner, mascara, and even hair.
Basically, wearing pink makeup is now at the intersection of traditionally aesthetically pleasing,and edgily so-hot-right-now — yes, still. Here are some fun ways to incorporate the shade into your routine.
Adding Pink To Your Hair
If you, too,have bleached your hair to oblivion and are still dealing with the consequences, a nice way of mitigating the horrible growing-out process is to add a fun and funky color through the ends.
I used the L'Oreal Colorista in Soft Pink. It's extremely easy, and leaves damaged hair feeling softened and conditioned with a wash of semi-permanent color which fades evenly. They have a whole bunch of other shades, too, though no other so satisfies the crucial millennial criteria.
A Wash Of Sparkling Pink Eye Shadow
While some people hear "pink eye shadow" and think "eye infection," the addition of glitter helps take the look out of irritation territory. The best glitter eye shadows,and I will fight anyone who says otherwise, are the Urban Decay Moondusts.
The shade Shockwave, which looks like a warm purpley-brown in the pan, transforms with a hot pink glitter reflect once applied. And you can swipe I one with a finger for a five second pink eye situation that doesn't require a doctor's appointment.
A Graphic Pink Flick
To take this look to its logical pink conclusion, though, you can add a pink cat eye. I used the Too Faced Sketch Marker in Candy Pink, and although it does take a liiiiiitle bit of work to be built up to full opacity, what it lacks in pigment it certainly makes up for in each of application. And the packaging is just a kid's-imagining-of-what-makeup-looks-like dream.
Ethereal Lash Tips
While colored mascara isn't everyone's cup of tea, you can't really argue with one that costs just $7. The Color Mascara from NYX in Petal Pink, dabbed on the tips of top and bottom lashes, gives a "caught in a pink snowstorm" effect. Weird, but definitely cute.
Barely There Nails
Pink nail varnish is hardly revolutionary, but this slightly sheer and super shiny offering from Zoya — this shade is called Dot — is the most perfectly millennial pink product on the list. It applies opaque in two coats, and though it takes a while to dry, once it is set it will last you chip free for around a week.
A Brightened Waterline
One way to incorporate pink in a barely noticeable way is a bright flash on your waterline. Benefit's Eye Bright is totally perfect for this. It's just creamy enough to apply without dragging, yet waxy enough to stay put even in the most difficult of places. The shade cancels out redness and makes eyes appear wide and doe-like. It's pink, but not as you know it.
A Cherubic Cheek
Everyone knows that pink blush is pretty much a good look on everyone. This one from Mally Beauty, which comes in a set of three for $36, is one of the easiest I've used. One quick scribble, tapped out, gives plumped up, brightened, glossy cheeks in literal seconds.
A Soft Pink Shine
I recently discovered these lipsticks from Burt's Bees, and am seriously wowed. They have the texture of the silkiest lip balm, yet opaque, creamy color. The most millennial is 510, Iced Iris, a blue toned, pale yet wearable pink.
Total Pink Lips
For a mouth as millennial as a selfie, though, the best option I've found is the Make Up For Ever Artist Liquid Matte Lipstick in the shade 201 Fresh Pink. A color like this is tricky to get right in a liquid formula, and though it can look a touch drying, the overall effect is full Malibu Barbie combined with cool girl who loves Glossier and iced coffee. The millennial dream.
So no excuses. You now have a multitude of ways to wear pink, some extremely subtle and some just plain extreme. Because with the economy and house prices and student loan officers, we might as well have something to enjoy about being millennials, right?