9 Organizations Helping Migrant Children That You Can Donate To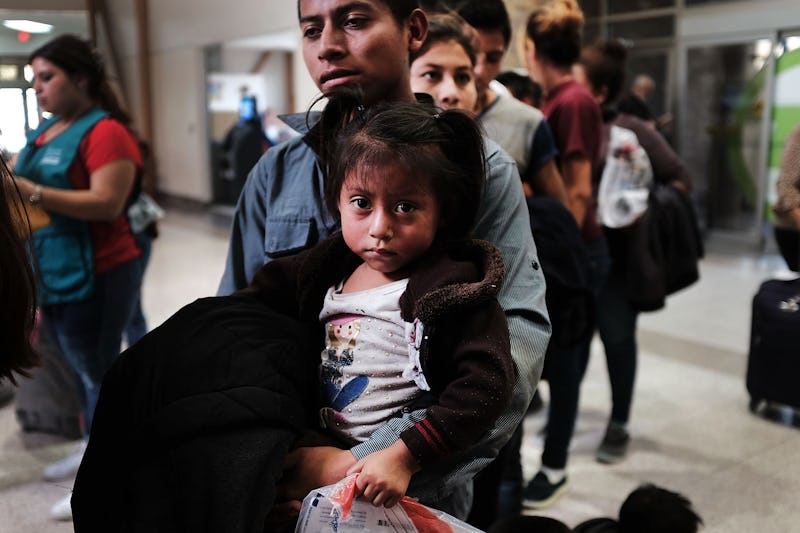 Spencer Platt/Getty Images News/Getty Images
An Associated Press report detailing the poor living conditions facing migrant children being held at a Customs and Border Patrol detention center in Clint, Texas, sparked widespread public outrage. Since then, many people have tried to donate a variety of supplies for detained migrants through Border Patrol to no avail. But while Border Patrol won't take your donations, there are a number of organizations helping migrant children that can absolutely use your help.
Lawyers told the Associated Press they'd found kids as young as 8 having to take care of other kids along with inadequate food, water, and sanitation when visiting the 250 children held at a Border Patrol facility in Clint. But efforts to supply food or personal hygiene items like soap, diapers, toothbrushes, and toothpaste to the migrant children were quickly rebuffed by Border Patrol. As Bustle reported last week, the Antideficiency Act keeps Border Patrol from being able to accept donations, leaving many flummoxed about how to help.
In a statement widely issued to media outlets earlier in the week, Customs and Border Protection said it "leverages our limited resources to provide the best care possible to those in our custody, especially children." The agency went on to say that its leadership has "noted numerous times" that its "short-term holding facilities were not designed to hold vulnerable populations" and that it "urgently" needed additional funding. Border Patrol also said it took all allegations of civil rights abuses or mistreatment at detention centers seriously, investigating them all "to the fullest extent possible."
But although Border Patrol won't take your donation, there are ways to help. Here are nine organizations working to help migrant children that you can donate directly to: