These 9 Groups Are Protesting Trump's Phoenix Rally For Totally Different Reasons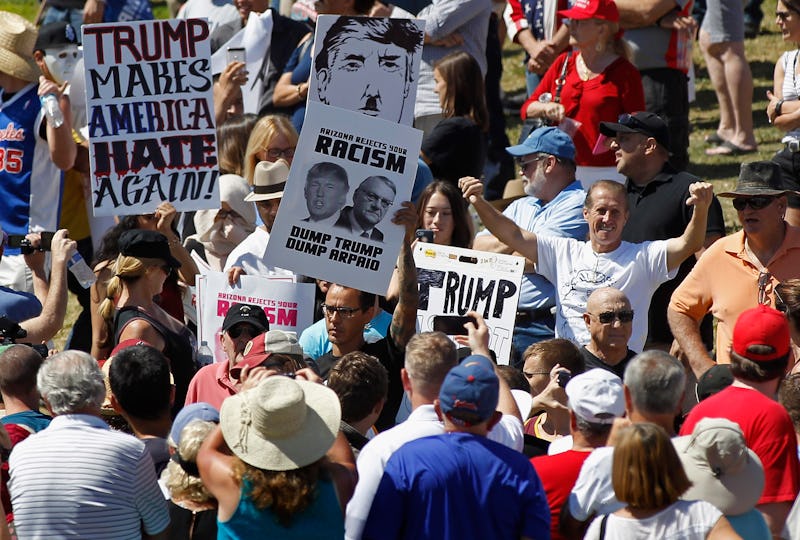 Ralph Freso/Getty Images News/Getty Images
On Tuesday, two days after returning from his "working vacation" at his golf club in Bedminster, New Jersey, the president is doing one of his favorite things: hosting a campaign-style event in Arizona. Groups in Phoenix will be protesting Trump's rally, something that would be expected under normal circumstances, but which promises to be more intense after the violent white supremacist rally in Charlottesville and numerous other similar rallies that have been planned across the U.S.
Adding more fuel to the fire is the revelation that Trump is considering pardoning Joe Arpaio, a former sheriff of Maricopa County in Arizona. Arpaio was recently found guilty of criminal contempt and racial profiling. Arpaio's targets were primarily Latino immigrants. Trump, however, approves of the former sheriff's record. Trump said during a Fox News Sunday interview:
I am seriously considering a pardon for Sheriff Arpaio. He has done a lot in the fight against illegal immigration. He's a great American patriot, and I hate to see what has happened to him.
The possibility of an Arpaio pardoning and Trump's reluctance to denounce white supremacist groups currently appear to be the two main issues Tuesday's protests will focus on.
Here are some of the protests and groups planning to be in Phoenix today.
1. Protest Trump Downtown Phoenix
The largest planned protest is Protest Trump Downtown. Over 4,000 people haver RSVPd as "going" on the event's Facebook page so far.
"Come stand up for decency, equality, and good. Stand up for your children and the goodness in their hearts," reads the page description. "Stand in solidarity with the brave people in Charlottesville. Stand up against bigotry, hate, white supremacy, Nazis, Islamophobia, transphobia, xenophobia."
2. Puente Human Rights Movement
The Puente organization defends undocumented immigrants in the fight for better rights. The "White Supremacy Will Not Be Pardoned!" protest will be calling out President Trump for both his response to Charlottesville and his consideration of pardoning Arpaio.
3. AZ Indivisible
AZ Indivisible, one of the thousands of groups formed as part of the Indivisible movement to resist Trump's policies, will voice its opposition to white supremacy with a rally.
4. Anti-Fascist Action
Also known as "Antifa," this group will be rallying to oppose Arpaio's possible pardoning, colonialism, and fascism.
The event page reads, "We will converge, in the spirit of solidarity and hostility to the current order, and as a physical body ready to act in self-defense and mutual protection of each other from cops, fascists, and liberal/radical 'peace police.'"
5. Democratic Socialists Of America
The Arizona chapter of Democratic Socialists of America will be joining the Puente Human Rights Movement's protest.
6. Students For A Democratic Society
Arizona State University's chapter of the Students for a Democratic Society will likewise be supporting Puente's anti-racism, anti-Arpaio protest.
7. Cosplayers Against Hate
Those who enjoy dressing up like their favorite fictional characters will fit right in with Cosplayers Against Hate. The event's organizer aims "to help drown out the hate groups that will make an appearance by showing up to the rally in cosplay."
8. Unity March Against Hate and Bigotry
Members of the First Congregational United Church of Christ in Phoenix will be opposing Trump and Gov. Doug Ducey's stances on keeping Confederate monuments, as well as their comments on bigotry, by first holding a prayer vigil followed by a march.
9. Never Again: Jews And Allies Against Hate Rally
Organized by the Anti-Defamation League's Arizona chapter, over 250 supporters will rally to denounce Trump's comments placing blame for the violence in Charlottesville on both counter-protesters opposing neo-Nazism and on white supremacists.
"We will make clear that we will not accept the false equivalency between neo-Nazis and peaceful protestors who oppose hate," reads the event page. "We will not stand by as Nazism makes a resurgence in America. Never again can the people of this country or this state allow hate to become fashionable."
If you're in the Phoenix area and looking to voice your opposition to President Trump, any of these groups would surely welcome your participation.