9 Organizations You Should Donate To During Pride Month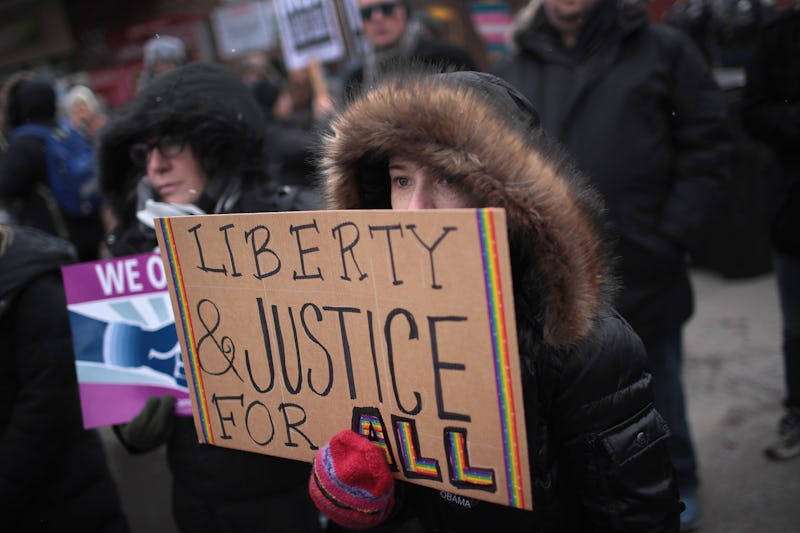 Scott Olson/Getty Images News/Getty Images
If you're an ally or trying to define what your activism looks like, it's sometimes difficult to know what to do. And the challenges are an exhaustive list! If you just focused on the challenges faced by the LGBTQI+ community, just this year we saw those issues snowball into many debates about the best ways to demand equality. From ways to challenge gender discrimination in public spaces at the state level or how to support victims who have experienced hate crimes, it can seem overwhelming to strategize on all sides of the issues to move forward. But alas, there is always something you can do to contribute to more inclusive conversation, connect with like-minded people, and take action in your community.
You know the problems, and you're committed to spreading awareness online, but what else can you do besides push "RT"? The first step is acknowledging that even within the LGBTQI+ community, there are nuances. For instance, the experiences of a trans woman of color will be quite different from a trans white woman. As an ally, when you commit to supporting this community there is power in acknowledging those diverse experiences. Secondly, checking your privilege and understanding how you inhabit different spaces.
When thinking about activism or working with a cause, there are also other tangible ways to help move the needle forward on LGBTQI+ rights other than protesting. You can also support these organizations with a donation, and still feel like you've done your part.
1. The Transgender Law Center
The Transgender Law Center (TLC) was founded in 2002 with a mission to "change law, policy and attitudes so that all people can live safely, authentically and free from discrimination regardless of their gender identity or expression." They offer services such as the Detention Project to help trans people in prison, immigration detention and in state hospitals. You can donate to help support programming and community initiatives here.
2. Live Out Loud
Committed to helping the LGBT community "live out and free," Live Out Loud utilizes mentorship, discussion and community initiatives to empower youth. Some of their programs include panels and discussions on issue concerning the community and the Homecoming Project where LGBT role models return to their local high school to connect with other LGBT youth. You can help them make it all happen with just a donation here.
3 Human Rights Campaign
As one of the largest civil rights organizations for the LGBTQI+, they've continued to take action and organize around local issues. With 1.5 million supporters and members nationwide, they just launched their Summer of Action efforts. It isn't too late to get involved or donate here.
4. True Colors Fund
The True Colors Fund cited that out of the 1.6 million youth that identified as homeless, 40 percent of them were LGBTQ youth. Since 2008, the non-profit organization the True Colors Fund has three main strategies to end homelessness of LGBTQ youth: advocacy, training/education and youth collaboration. To help them continue their work, donate here.
5. National Black Justice Fund
To tackle the intersections of race, gender, and sexuality, the National Black Justice Coalition has stood behind black LGBTQ people since 2003. They not only opposed the American Healthcare Act, but also encouraged community members to call their local representative. Continue to help them support the unique experiences of the black LGBT community and donate here.
6. InterACT
Advocates for Intersex Youth or InterACT was founded in 2006 by attorney Anne Tamar Mattis. Their mission is to end painful medical interventions of intersex children, support intersex children and educate on the legal questions surrounding intersex children. Support their legal advocacy here with a donation.
7. Health Professionals Advancing LGBT Equality
Formerly known as the Gay and Lesbian Medical Association (GLMA), Health Professionals Advancing LGBT Equality was founded in 1981. They not only support anti-discrimination initiatives for LGBT health care professionals, but also inclusive healthcare. Donate here to support LGBT healthcare professionals, patients and their families.
8. The Association of LGBTQ Journalists
If you've ever wondered how more LGBTQ members can continue to report important stories from their community, this association is a way to support the cause. The Association of LGBTQ Journalists ( NLGJA) is a network of media professionals all dedicated to ethical coverage for an underrepresented community. Donate here to help share inclusive reporting.
9. Drag Queen Story Hour
The NYT said Drag Queen Story Hour (DQSH) "put the rainbow in reading," as they teach inclusion, tolerance, and respect to children through queer role models. Created by Michelle Tea and RADAR Productions, you can get in on story time in cities such as LA, New York, and San Francisco. Coming soon to the U.K. and Canada, DQSH made a splash by using story time as a vehicle to expose children to conversations about gender fluidity and defying gender restrictions.
To find the right fit, don't forget to do your research! Knowing whether or not the organization has non-profit status, what their spending ratio is, and what their current programing is are all questions you should ask. If you want to finally lean into supporting LGBTQI+ community, you can start Pride Month with a donation of your choice.