These Products Will Help Keep Your Festival Hair Looking Clean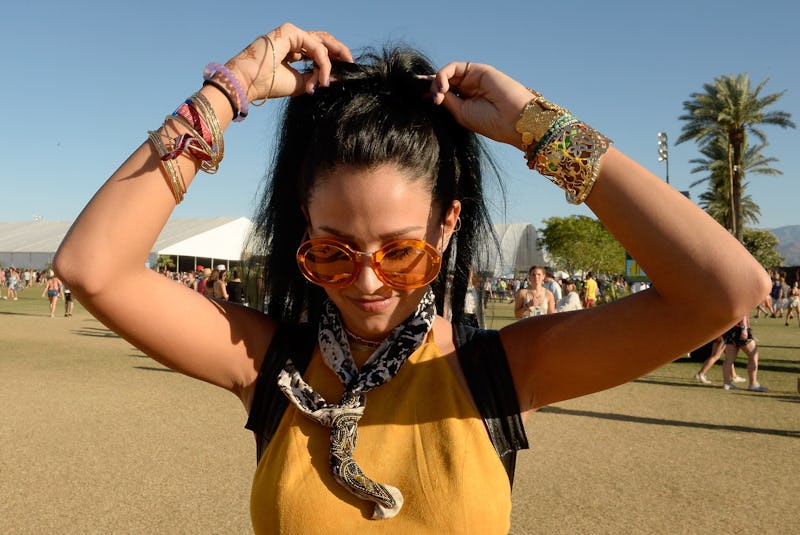 Matt Cowan/Getty Images Entertainment/Getty Images
If you've ever been to a music festival, you know that it doesn't take too long before the sweat kicks in and your hair that you worked so hard to get festival ready begins to fail you. That's why these products to keep your hair clean at music festivals are going to be your new best friends some festival time. From dry shampoo to volumizing powder, you can trick fellow festival goers into thinking you've found a magical shower —even though you really haven't.
Of course there are always the usual things to consider when it comes to keeping your hair clean at festivals. Braids are a go-to, and there's always the simple act of throwing it into a ponytail. However, if you want to keep your hair clean during festival season, it'll take more than a braid. In fact, great products may just be the secret to surviving the heat and sunlight. If you want to rock Coachella like Alessandra Ambrosio — or at least look like you are — prepping your hair for the coming days and making sure you've got your products on hand is key.
While some may be twisting their hair into intricate braids, you'll be rocking a mane that — at least — looks clean with these products.
1. Dry Shampoo
Batiste Dry Shampoo, $9, Amazon
Of course, dry shampoo is a staple. There truly is no matter way to help your hair stay fresh over the course of a few days.
2. Volumizing Powder
Big Sexy Hair Powder Play Volumizing & Texturizing Powder, $12, Amazon
Add volume to hair that's starting to get a little lack luster.
3. Texturizing Spray
Moroccanoil Dry Texture Spray, $23, Amazon
Give your hair a tousled look with texture that'll help hide any second — or third — day oils.
4. Rubbing Alcohol
Swan 99 Percent Isopropyl Alcohol Antiseptic Solution, $12, Amazon
Using a cotton ball, rubbing alcohol can absorb any grease on your roots.
6. Dry Foam
Ouai Dry Shampoo Foam, $40, Amazon
If a traditional aerosol isn't your thing, this dry shampoo foam may just be the answer to your festival hair woes.
7. Hair Ties
Sephora Set of 4 Hair Ties, $12, Amazon
While it may be simple, never underestimate the power of a hair tie.
8. Glitter Dry Shampoo
Spacedust Dry Shampoo, $22, Forever 21
Want a little sparkle with your dry shampoo? Lemonhead's is perfect.
9. Clarifying Shampoo
MOROCCANOIL Clarifying Shampoo, $23, Nordstrom
A good wash should never be underestimated, and if you're looking to extend your days without one, cleansing well beforehand is definitely important.