9 Revelations About 'The Bachelor,' According To The New Book Everyone Is Talking About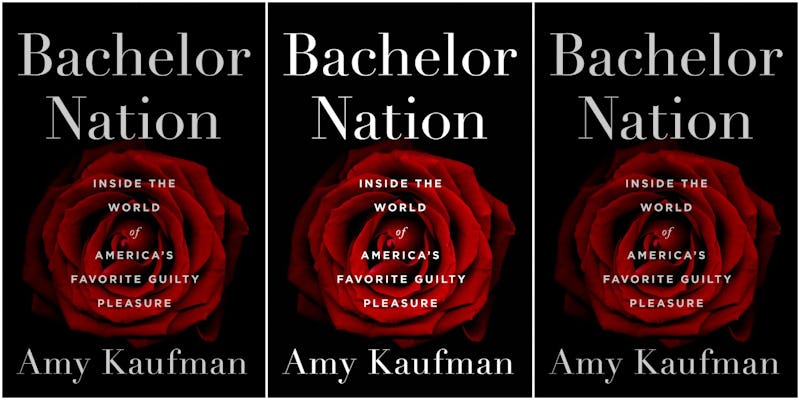 If you, like me and basically every other Bachelor fan with a soul, still feel ice cold rage running through your veins after watching Arie Luyendyk Jr.'s finale episode, then you probably need to read something right now that reminds you why it's OK to love the show, even though you understand fundamentally that it's mostly ridiculous and often emotionally exploitative. Enter Bachelor Nation by Amy Kaufman, the reported history of The Bachelor that you've been waiting for since Alex Michel and Amanda Marsh broke up.
You probably already recognize the author: Amy Kaufman, a longtime fan, has been tweeting and writing about The Bachelor and its spin-offs for years. (She was notoriously "banned" by ABC in 2012 after writing an article for The Los Angeles Times about Ben Flajnik's 'Women Tell All' episode that detailed an unaired exchange between winner Courtney Robertson and producer Elan Gale.) Although ABC restricted her access as a reporter for the Times, Kaufman kept talking about The Bachelor on her personal channels. And she started reporting and writing this book, which draws on dozens of on-the-record and anonymous interviews with cast and crew to chart the cultural history of America's favorite hate-to-love-it and love-to-hate-it television show.
Though a fan, Kaufman is not insensible to the controversies that have rocked the franchise since its inception, and the most riveting parts of the book detail the disturbing methods used by producers and editors to achieve the final result of the show: entertainment value, not true love. Despite the show's (many) problems, however, Kaufman is a fan, through and through — and her affection for the franchise is obvious.
Bachelor Nation: Inside the World of America's Favorite Guilty Pleasure by Amy Kaufman, $15, Amazon
Before you pick up a copy of Amy Kaufman's new book, here are nine revelations about Bachelor Nation that every fan needs to know: