9 Fiery RBG Opinion Quotes That Speak To Her 25 Remarkable Years On The Bench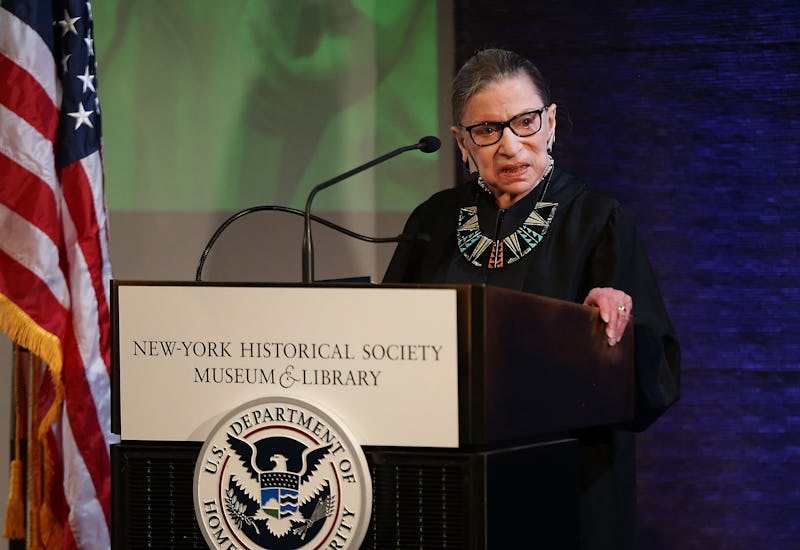 Spencer Platt/Getty Images News/Getty Images
In the past five years, Ruth Bader Ginsburg has accumulated a sizable following on social media after earning the title "Notorious R.B.G." from a popular Tumblr account. However, Ginsburg's career as a liberal justice and champion of women's rights actually started decades ago, and Friday marks her 25th anniversary serving on the Supreme Court. In her years on the bench, Ginsburg has written some powerful opinions that continue to inspire her supporters on the left, and she intends to stay on the Supreme Court for at least five more years.
In 2000, during the notorious Bush v. Gore Supreme Court case, Ginsburg famously wrote "I dissent" in her opinion, expressing disagreement with the court's decision to favor Bush over Gore. As Teen Vogue pointed out, this was not necessarily in line with court decorum — as justices usually say that they "respectfully" dissent — but this statement reflected much of Ginsburg's time on the bench.
Many of her most famous quotes have come from her dissenting opinions, to the point where CNN remarked that she even has a "classic dissenting collar" to wear over her robe as she prepares to disagree with the majority opinion. Ginsburg frequently makes headlines for her passionate defenses of everything from reproductive health care access to affirmative action, and the quotes below are just a small representation of some of her most powerful moments.