9 Short Stories About Modern Womanhood That Will Feel Scarily Familiar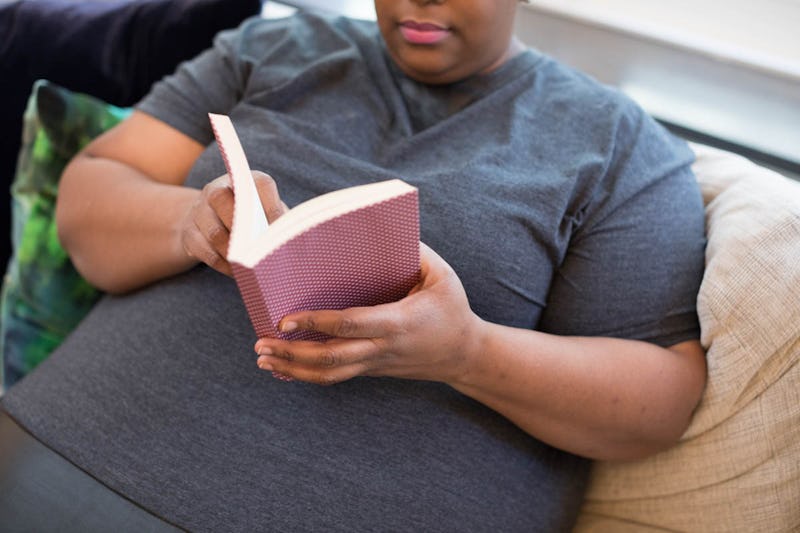 Ashley Batz/Bustle
Barring the possibility that you were stranded on an unpopulated island in the Pacific or unconscious during the week of Dec. 11, 2017, you heard about "Cat Person" — the 4,000-word short story about a short-lived and cringe-worthy relationship that sent the internet into an utter conniption and shortly thereafter earned its author, Kristen Roupenian, a seven-figure, two-book deal with Scout Press. And though 20-year-old Margot's ill-fated intercourse with the 14-years-older Robert is indelibly imprinted in my brain forever, as I'm sure it is yours, I'll refresh your memory just in case: girl flirts with boy; boy asks girl out; boy exhibits a pattern of awkward and/or red-flag behavior over the course of two underwhelming dates and approximately 175 text messages, all of which girl overlooks until the inevitable co-mingling of their squishy bits is so insufferable that she all but ghosts him. A month later, Robert obsessively drunk-texts Margot, resulting in the determination that Margot must be a "Whore."
And then the internet lost its mind. Real-life "Cat Person" anecdotes flooded the blogosphere. Men who've always secretly suspected they might be "Cat Person" themselves suddenly decided if you're not Ernest Hemingway or Jane Austen, you're not worth reading. We all realized that Americans no longer understand how to distinguish between the short story and the essay (hint: one will be published as "fiction" and the other "essay".) Theories about "Cat Person" and it's author abounded. And every 20-something young woman who has ever lived "Cat Person" herself (based on the response, that would be most of us) suddenly felt understood and validated — if a little queasy.
But while the viral nature of "Cat Person" might be an anomaly, the conversation it initiates about the nuances of consent should not be. Perhaps the most uncomfortably relatable moment in "Cat Person" comes when Margot arrives at Robert's house, presumably to have sex, and realizes she doesn't exactly want to be there anymore, but is highly attuned to the fact that if she doesn't just muscle through she will be perceived as spoiled and/or rude. And tolerating terrible sex is far preferable to exhibiting a displeasing personality. Plus, she flirted, so it's her own fault that she owes him now. None of this is actually stated explicitly. Robert — while odd and a rather intense — has in no way indicated that he will respond unfavorably if Margot decides she'd rather go home and paint her nails. Margot herself admits she doesn't feel threatened. And yet, herein lies the unspoken realities about consent in 2018: we can rewrite the student codes of ethics for every university in the country and espouse the importance of repeated verbal consent and the right to revoke that consent at any point, but until the voice of consent grows louder than the lifetime of subtle social cues women absorb about the ways they are and are not allowed to exist in the world, consent — and the passive revoking of consent, from a safe distance — is going to look a whole lot like "Cat Person".
If you loved Roupenian's story — or even if you're not sure how you feel, but are willing to wade into this whole complicated realm a little further — here are nine short stories to read about dating, love, and sex as a young woman: