Sunburn Is The Curse Of Summer So I Asked The Experts Which Remedies Actually Work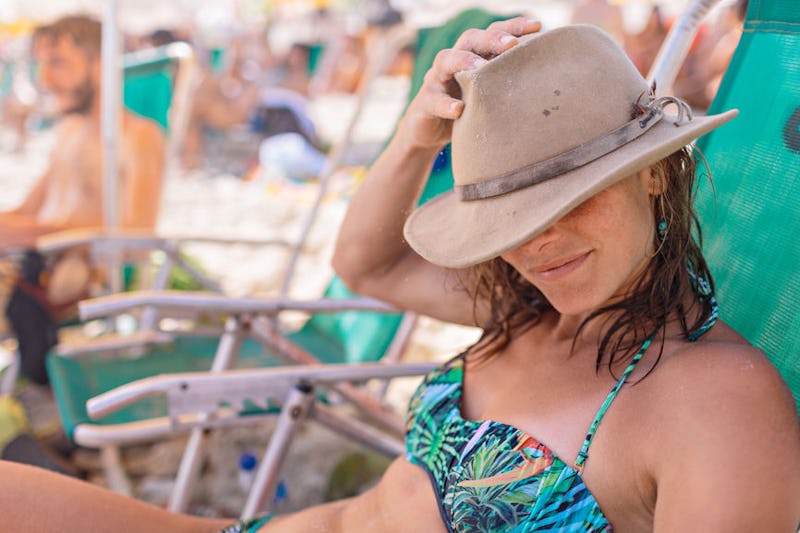 Howl/Stocksy
Sunburn is a right royal pain. No matter what you do or how much advice you take, it's annoyingly easy to get to the end of your holiday red raw and trying to avoid any sunlight whatsoever. With so much waffle online, it can be hard to find a hack that actually works to relieve the burning sensation. So I contacted a bunch of experts to find sunburn remedies that work and which ones should remain in the "do not try ever" folder.
First of all, what actually is sunburn? According to dermatologist and spokesperson for the British Skin Foundation (BSF), Dr. Anjali Mahto, it is "an acute reaction in the skin that follows excessive overexposure to ultraviolet (UV) radiation. It causes direct damage to DNA resulting in inflammation and death of skin cells."
While it's fine to list off a bunch of sunburn prevention methods (the main one being a sunscreen with SPF 30 or more, says Dr. Mahto), you're guaranteed to sit out in the sun for too long at least a handful of times throughout your life. But what do you do when you've overdone it and now resemble a ripe tomato?
Searching "how to get rid of sunburn" online brings back everything from soaking in yoghurt to rubbing yourself with teabags. I have official word from the experts: If something sounds too good to be true, it usually is. Paula Begoun, founder of skincare line Paula's Choice, says that applying a number of products claiming to heal burns "is just silly. They won't hurt but in terms of being helpful, it's more of a why bother?"
Here are nine tried and tested methods that will heal that sunburn in no time at all. (And only two of them involve some kind of food or drink.)