9 Supportive Bras That Help Relieve Back Pain, According To An Expert
We only recommend products we love and that we think you will, too. We may receive a portion of sales from products purchased from this article, which was written by our Commerce team.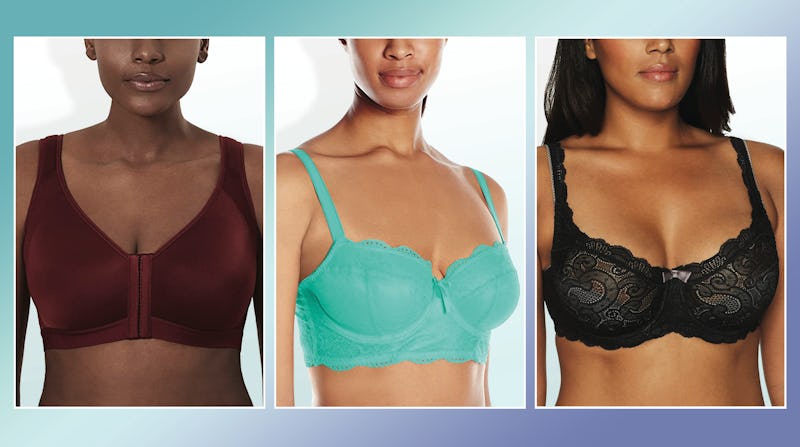 Amazon/Bustle
I love my boobs. They function as pillows, flotation devices, cell phone holders, and (hopefully in the future), feeding apparatuses. That being said, you should never put up with pain because of them. Supportive bras that can help relieve back pain are a real and attainable thing — and with just a little research and a few clicks of your mouse, you could get one sent straight to your door.
To help me in my quest for bras that actually support your back and shoulders, I got in touch with Hillary Settle, VP of E-Commerce Marketing at Brayola. "The average D-cup [breasts weigh] anywhere between 15-23 pounds," Settle tells Bustle. "That's a lot of weight to be carrying on your back, which unfortunately leads to back pain if the weight isn't properly supported."
And, while you might be thinking something like, "Yeah, it hurts, but I can make it through the day," it's worth remembering that unsupportive bras actually come with some risks: "The most common long-term risk is body imbalance, like poor posture," says Settle. "It also causes lower back pain, upper back pain, [and] pinched nerves." Never fear, though: Settle was able to provide me with the best supportive features and a few solid brand recommendations for supportive bras that prevent back pain.
1. A Bra With High Back Support Can Make All The Difference
"Look for styles that have a high back support," says Settle. The Delimira Back Support Bra has a high, X-shaped back that corrects your posture by pulling your shoulders up and back. It also has a front-close for convenience, and wire-free cups that are not padded, but still shockingly supportive.
Enthusiastic Amazon review: "I liked that it had a multi hook front closure. I purchased this posture bra for the support I needed for my upper back and it certainly has helped me."
Available sizes: 34B — 48E
2. This Supportive Bra Designed To Improve Your Posture
"Get the support you need while improving your posture with the Glamorise MagicLift Posture Back Support Bra," Settle recommends. "The inner cushioned band provides incredible bust support and great shape — all without a wire. Stretch support bands in the back provide additional shoulder support while gently aiding posture. An easy front closure and extra-wide adjustable straps assure a great fit and total all day comfort." It's also got a silky smooth fabric and careful stitching that hugs your body instead of cutting into it.
Enthusiastic Amazon review: "My left shoulder has arthritis and most bras are painful now to wear. With the cross-support elastic in the back and wider shoulder straps, this bra is very good support even without wires and most importantly, it helped relieve my shoulder discomfort."
Available sizes: 36B — 58K
3. A Bra With A Wide Straps & Bands For All Around Support
Another super supportive bra with a wide band is the Elila Plus-Size Full Coverage Bra. It's also got padded one inch straps and a full cusp sling to separate and define breasts and reduce back pain. Best of all, it's available in tons of different sizes and colors, so you can choose the best fit for your style and comfort levels.
Enthusiastic Amazon review: "This bra is a great assistance to those of us who are plentiful on top. It provides great support and keeps the girls lifted all day long, with no need to constantly readjust."
Available sizes: 34F — 52O
4. A Bra With A Thick, Supportive Band To Fit Comfortably
According to Settle, "The band of your bra provides most of the support, so if you're wearing the wrong band size, you may experience pressure on your shoulders." The Bali Women's Comfort Revolution Bra comes in a wide range of sizes and has an extra thick band for maximum support. Its back straps are also oriented towards the middle rather than the sides to stop digging and slipping, and it's got a front close feature, which is something that Settle also recommends for back pain.
Enthusiastic Amazon review: "This bra provides lift, support and is one of the most comfortable I've ever worn. So much [so] that I bought another to wear as a sleeping bra!"
Available sizes: 34B — 42DD
5. A Supportive Bra With Straps That Lift Without Digging
"If your straps are digging into your shoulder because of the weight of your breasts," says Settle, "then it's also another sure sign that you're not getting enough support." The Playtex Love My Curves balconette bra has thick cushioned straps — but it's so supportive you won't even need them. It uses a combination of contoured cups, light padding, and a wide band, all of which come together to "lift, support, and look sexy."
Enthusiastic Amazon review: "Out of all the bras I have bought and there have been many. This is the best on(e). I do feel a difference with my back. Don't feel my breast hanging and therefore no pressure on my back."
Available sizes: 36B — 42DDD
6. This Longline Bra Instead Of A Bralette, For More Support
"Styles with no support structure like a bralette, which have little structure or support, can many times make back pain worse if you struggle with back problems due to larger breasts," says Settle. Instead, look for something with a lot of structure. For a whimsical look with way more support, there's the Freya Women's Fancies Longline Bra. It's got underwire, foam-padded cups, a longline band, and a high gore that separates breasts. However, its frilly lace design gives a bralette look without all the associated pain.
Enthusiastic Amazon review: "This is by far the most comfortable bra I've ever owned, and I've now bought this [in] many [...] colors so I can wear it throughout the week. The straps are comfortable and almost never slip, and the wide band lets me wear it for hours without feeling it. It's the perfect blend of exceptional comfort and support with an attractive appearance!"
Available sizes: 28D — 36GG
7. A Good Everyday Bra With All The Right Features
"Women with bigger breasts have a hard time shopping for bras," says Settle. "Most brands and stores (online or brick and mortar) may not carry bras in their size, and if they do, it's very likely that it's hideous." Luckily the Dominique Talia bra is available in a ton of sizes, from 32B to 42F, and it's even nice to look at.
The Dominique Talia Bra has a whole bunch of features Settle mentions, like a wide band, front closure, separated breasts, and side support. It's also got a racerback design to alleviate some back tension.
Enthusiastic Amazon review: "These really are some of the best racer back bras on the market. I've bought several different brands but this is the one I come back too. Fit is just right and [it holds] up well. The back is wide and comfortable too."
Available sizes: 32B — 42F
8. A Front Close Bra To Lessen Back Pain
Settle also says that women should search for "front closures to help with back pain." The Vanity Fair Illumination Underwire Bra has a wide back band with the closure in the front, which separates breasts as well as boosts convenience. It's also got thick straps, a gorgeous satin trim, and won't show seams through clothing.
Enthusiastic Amazon review: "Talk about a comfortable and affordable bra! I got the set of two tan and black they fit perfectly and I love the front closure."
Available sizes: 34C — 38DD
9. A Bra With Separated Cups & An Underwire For Extra Support
According to Settle, another feature that helps to minimize back pain are "separated cups." She explains that this is because the weight is evenly distributed across the chest rather than pushing it all towards the front. This Playtex underwire bra has a tall center gore that helps to separate breasts while providing lift and support. Its cups feature a seamless, stretchy lining for comfortable support.
Enthusiastic Amazon review: "Theses are my new favorite bras, [they're] not only pretty, they are comfortable as well! They are the perfect fit and give me a nice lift and shape. The only bras that I will buy!' I'm a 38 DD most times it's hard to find bras that fit are comfy and give a great shape, this one does it all!!"
Available sizes: 36C — 42DDD