9 Trayvon Martin Tributes To Share For His Bday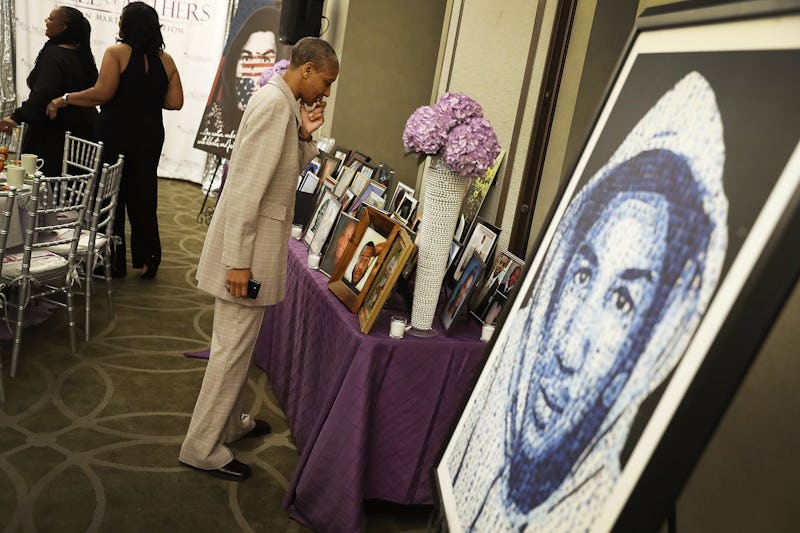 Joe Raedle/Getty Images News/Getty Images
Trayvon Martin, the 17-year-old boy shot and killed by a neighborhood watch volunteer in Sanford, Florida, in 2012, would have been 22 years old today. Although it falls on the same day as Super Bowl LI, many are sharing tributes on social media to honor Martin's birthday.
Martin was fatally shot by George Zimmerman, captain of his neighborhood watch volunteer group in Sanford. Although Zimmerman call 911 about a "suspicious person" and was instructed not to approach Martin, he ignored these instructions, ultimately killing Martin in what he called was "self-defense."
Martin's death sparked national outrage and has been an ongoing source of controversy for years. During his presidency, Barack Obama famously said that if he had a son, he would look like Trayvon Martin. Similarly, after Martin's death in 2012, Obama said that the incident should inspire national "soul searching."
Since he was killed, Martin's death has sparked a movement over the past five years, igniting an unprecedented fight against criminal justice violations and unjust killings of black men and women. This year, Martin's parents, Sybrina Fulton and Tracy Martin, released a book about their son, titled "Rest In Power."
If you want to honor what would have been Martin's 22nd birthday, here are some tributes you can share on social media:
Trayvon & His Dad
His Life Mattered
Trayvon & His Family
Murals Honoring Trayvon
His Life As A Teenager
While the Super Bowl LI may be distracting millions today, it's also a day to reflect on Trayvon Martin's life and all that he could have been as a 22-year-old today.