Here's Proof That 'Real Housewives' Is Feminist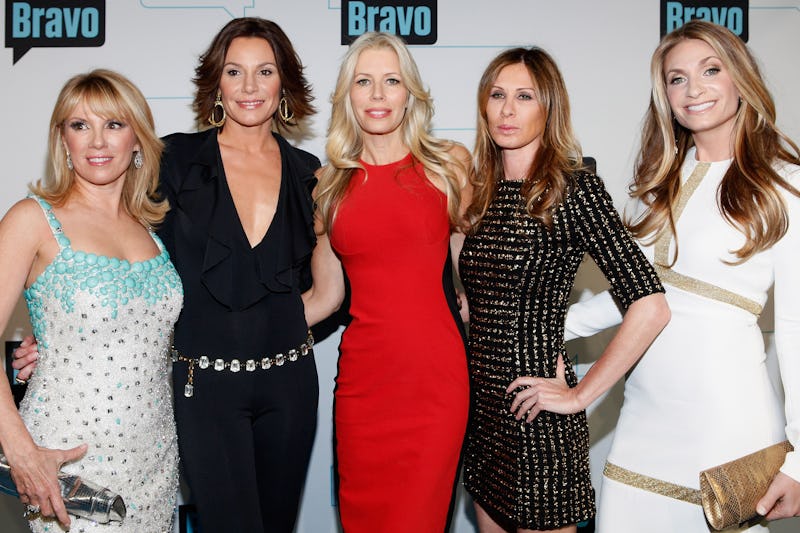 Cindy Ord/Getty Images Entertainment/Getty Images
The world of the Real Housewives is a special world to inhabit. To the outsider, it may seem like it's exclusive, specifically aimed at wealthy or famous women, or perhaps its just too reductive of women in general to be taken seriously. In reality, the various franchises of the Real Housewives is super feminist and there's proof of this time and time again. Trust me, I'm a superfan. I know these things and yes, I can show you the receipts.
For anyone who is ready to simply brush off the Real Housewives franchises as reality TV nonsense about silly women past their prime (I've heard this complaint in a variety of platforms over the years), think again. The Real Housewives are some amazing women. They're ambitious, talented, driven, intelligent, and yes, gloriously catty women. They love drama as much as they love to have real, honest-to-goodness discussions about issues that matter. They contribute to various charities, they get political, and they are dedicated to their work.
It may be easy to point to any number of damning moments caught on camera where one of the Real Housewives has been behaving poorly and say that their actions undermine the entire idea that the Real Housewives is feminist. To that, I say, "Hogwash." Need more proof? Here are a few of the ways that the Real Housewives are actually feminist
1. The Women Are Portrayed As Multi-Faceted
Luckily, in every franchise of the Real Housewives universe, you can point to any given woman and see a woman who knows how to hustle. For instance, Lisa Vanderpump is a restauranteur. Bethenny Frankel runs a food and drink empire. Kandi Buruss maintains a lively career in the music industry. Kyle Richards is currently producing a TV show based on her life. The Real Housewives, respectively, have incredible work ethics and they all maintain multiple careers while balancing full social calendars and busy personal lives.
2. They're Allowed To Be Gross
It doesn't matter which franchise you point to because on arguably all of the Real Housewives franchises, conversations can get frank, explicit, and yes, even gross. The Real Housewives of Dallas love to joke about flatulence and there's been a time or two when the Real Housewives of New York have gotten real about bodily functions and trauma (remember Frankel's bodily horror show in Season 8?) to the point that it's a little too much information. All that aside, you've gotta appreciate women who don't give a damn if a camera is catching them saying something gross that has just got to be said.
3. There's Room For Sex Positivity
Slut-shamers beware: In the world of the Real Housewives, let other women shame you about your sex life is verboten. Perhaps the most iconic moment in this category was during an epic episode of Real Housewives of New York, when Luann DeLesseps has to tell everyone to take a massive chill pill after she spent the night with a local while the women were all on vacation. Women love sex and the housewives are no exception to that rule.
4. The Housewives Are Ride-Or-Die For Their Friends
I mean, if you aren't loyal to your friends, then who are you as a person? Can you be trusted? Are you a good person? The Real Housewives, across all the franchises, are fiercely protective of their friendships and when two women unite in this world, they are usually an unstoppable force. There are some friendships we've seen go through tons of peaks and valleys (shout-out to Vicki Gunvalson and Tamra Barney), but no matter what, these women find a way to come together and support one another when it really matters.
5. Being A Housewife Is Normalized
The Real Housewives world has really found a way to take back the word "housewife" from its negative connotations and really open up viewers' minds to the possibilities of what it could me in the modern era. These women aren't stuck in the kitchen cooking nor are the slaves to child-rearing. Instead, we get to see these housewives juggle marriage, motherhood, careers, and friendships like — gasp — actual human women.
6. They Can Talk Openly About Sexuality
Being a part of the Real Housewives world means that areas like your personal life and your sex life will come up at one point or another. Goodness knows I live for the moments when Vanderpump is joking about her sex life with husband Ken or Buruss is actively discussing her sex toy business and maybe even giving audiences an insight into her steamy marriage with husband Todd. These housewives are sexual beings and it's a beautiful thing to see.
7. Some Franchises Are Lowkey Intersectional
The Real Housewives is able to discuss issues of race, gender, sexuality, and politics in a very frank way. While The Real Housewives of Atlanta is the most notable for shining a light on these intersectional issues, primarily because having an all black female cast allows for that kind of intersectional space to be created, each of the franchises has has their intersectional feminist moments.
8. For The Most Part, The Women Support One Another
The support system between the Real Housewives is real. Only these women can understand what it is like to be in the world of the Real Housewives (a rarefied space to be sure) and the ways in which the women are able to — when the timing is right and necessary — stop trading barbs and really support one another is so beautiful to watch.
9. Time And Time Again, Real Housewives Proves Women Are Amazing
No matter what happens or what kind of drama unfolds, Real Housewives proves time and again that the lives of women are messy and beautiful. Regardless of wealth, fame, or socioeconomic status, the life of a woman is full of obstacles, drama, and good times. It's a beautiful thing.
Get your best lives, Real Housewives. I'm here for you.