9 Productive Ways To Celebrate International Women's Day This Year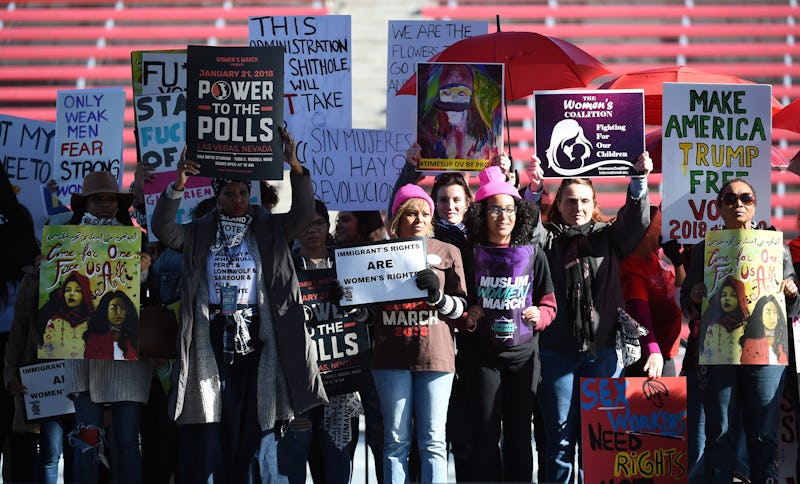 Ethan Miller/Getty Images News/Getty Images
Circle your calendar. Mar. 8 is International Women's Day (IWD) — and, according to the official site for the day, the campaign theme for 2018's IWD is #PressforProgress. While you can celebrate this day with the hashtag plastered all over your Twitter and Instagram, there are other ways to celebrate International Women's Day this year that will make an impact. And that's what #PressforProgress is all about.
Are you ready to gasp? According Where Women Work, the Global Gender Gap Report 2017 shows "that the gender gap is widening, so there desperately needs to be new ways of thinking if the world is to close the gender gap. Progress is regressing and moving backwards." It's projected to take exactly 217 years to close the gap. Two hundred seventeen YEARS. Get that gasp over with because there is progress to be made to achieve gender parity.
Thankfully women are strong, smart, determined, and motivated. With the use of our voices and the reach of social media, we can combine forces regardless of gender to close the gap a little, um, faster than 200 years from now. There are progress focused ways in which we can celebrate this day that kicks off a year of action.
#PressforProgress And Act!
The campaign theme for 2018's International Women's Day is #PressforProgress. The campaign, according to the official site of International Women's Day, can be considered "a strong call to motivate and unite friends, colleagues and whole communities to think, act and be gender inclusive." Gather your friends, globally, and speak up that you're pressing for progress.
If you're feeling a little overwhelmed about where to even start, meditate on some goals the UN has set for 2030. These include, "End all forms of discrimination against all women and girls everywhere. Ensure that all girls and boys have access to quality early childhood development, care and preprimary education so that they are ready for primary education. Eliminate all harmful practices, such as child, early and forced marriage and female genital mutilation." IWD is not exclusive to one organization. Celebrate by finding an organization you're passionate about and organizing an event.
Find An Official International Women's Day Event To Join
Locate an official IWD event near you and take part in the press for progress. You can search for events through the IWD website and the results are global. Types of events you may come by could be hosted by charities, corporations or government parties. You never know who you'll meet but you're guaranteed to get inspired.
Celebrate Women's Voices And Work
One of the best things you can do to celebrate, without doing much of anything at all, is celebrating the work of women you love from afar and women you love because you hang out with them all the time. Retweet your favorite quotes and your favorite jokes spoken and written by women. Shoutout to that artist you discovered by scrolling through Instagram explore. Do what you can to raise awareness of the talent that exists and deserves recognition. Just saying, I'm a huge fan of Tuesday Bassen's work and Natasha Pickowicz's pastries at Flora Bar and Cafe Altro Paradiso in New York City.
Donate To A Cause
Donate to a charity that progresses gender parity, challenges stereotypes, works towards positive visibility of women. How about Women on Wings or Days for Girls?
Speak Up And Highlight What Needs To Change
Speak up and advocate for change. Like the gender wage gap between men and women, as well was the wage gap between white women and women of color. Speak up for this kind of change. Demand it.
Support Your Friends' Projects
On a local level, you can celebrate IWD by supporting your friends. Whether they're launching a new project or a new Instagram account. Praise them with support and give as much visibility as possible. Let the people in your life know that you appreciate them and are here for them.
Gather Your Friends For A Slumber Party
A slumber party is a good way to celebrate anything. And lots can be accomplished in the powerful circle of sleeping bags. Have a charity you're passionate about? Get together to watch your favorite female directed movies and simultaneously figure out how to raise money for a charity. Brainstorming at a slumber party can be powerful.
Host A Screening Of Girl Rising
Girls Rising is a campaign for the education and empowerment of girls around the globe. Their mission, according to their official website, is "to change the way the world values girls and to ensure girls everywhere can be full and equal participants in society." Getting girls into classrooms can work to end global poverty. And yet, according to a 2016 UNESCO statistic featured on the website, 130 million girls around the globe are missing from classrooms. Get educated and then help educate. You can host a Girl Rising screening in your community.
Support Women-Owned Businesses
It's that simple. Bring your business to companies and small store fronts that are women owned. And while you're at it, support the visibility of black women in the tech industry. As described on their official website, Black Women Talk Tech was created, "because we saw how hard black women are working to create billion dollar businesses, but are still struggling to be seen, supported and funded. Black Women are the most educated, fastest growing demographic of entrepreneurs. Together with allies, we can turn that "black girl magic" into the next tech unicorn." Though women start companies at a faster rate than men, Fast Company reports that female CEOs only see 2.7 percent of funding while only 0.2% of funding dollars go to women of color. Pick your jaw up off the floor and get to work. There is progress to be made. Educate yourself on the numbers and don't mind the gap — close it!