This Story About A 1-Year-Old Boy Facing Immigration Court Alone Will Devastate You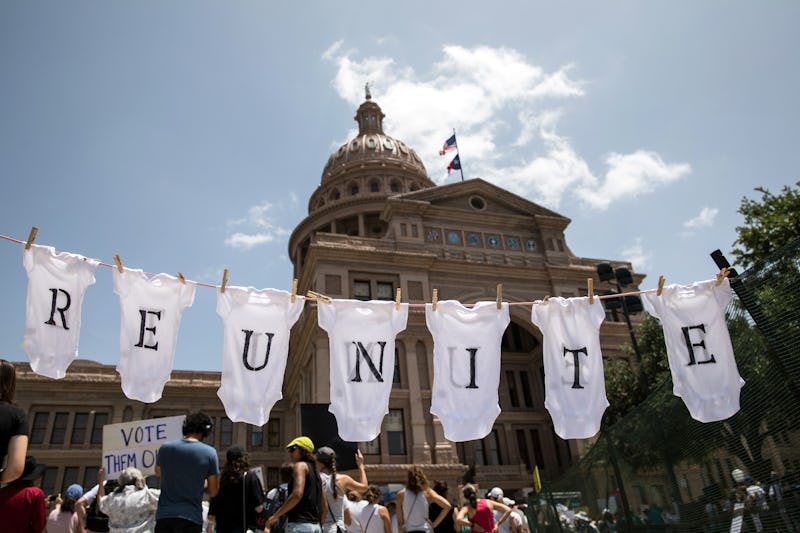 Tamir Kalifa/Getty Images News/Getty Images
He was drinking milk and dressed in a button-up shirt, the Associated Press reported. His name was Johan, and he seemed to be a completely normal 1-year-old boy. Except he was born in Honduras and he was facing the United States' immigration system alone. The story of Johan, a baby in U.S. immigration court, will devastate you.
Johan was one of hundreds of children who need the federal government to reunite them with their parents. The family separation was a result of the Trump administration's "zero tolerance" policy, which chose to criminally prosecute any adult found illegally crossing the border. Because kids cannot be sent to jail with their parents, this meant that the kids were put into the custody of U.S. Department of Health and Human Services (HHS).
HHS Secretary Alex Azar told reporters on Thursday that under 3,000 kids remain in government custody. He estimated that about 100 are under five years old. Nine days ago, HHS reported custody of 2,047 kids, according to CNN.
The judge who was presiding over Johan's case was embarrassed by the proceedings, according to the Associated Press. "I'm embarrassed to ask it, because I don't know who you would explain it to, unless you think that a 1-year-old could learn immigration law," Judge John W. Richardson told the lawyer representing the child.
Johan is one of those kids required to go through deportation proceedings while still separated from his father. His father brought him to the United States, but his attorney is not sure when, the AP reported. The attorney also said Johan's father was deported to Honduras under the "false pretenses" that he would get to leave with Johan.
On Saturday, a federal judge ruled that the government has until Tuesday to reunite children under 5 years old with their families, according to The Los Angeles Times. For older children, the government has until July 26.
According to the AP, during the proceedings, Johan played with a light-up ball and asked for "agua." He was fully dressed at the start, but by the time he saw the judge, Johan was missing his shoes. He "cried hysterically" afterward when he was held by another person while a worker "gathered his diaper bag."
Johan was "granted a voluntary departure order" that meant he'll be flown to Honduras to meet his family, the wire service reported. The Florence Project, an Arizona-based nonprofit organization that offers immigrants free legal services, told the AP that both of Johan's parents are in Honduras.
Johan's wasn't the only case that day. Many children passed through Richardson's courtroom that day. Here's just a small sampling via the Associated Press report:
A boy from Guatemala dressed in a vest and tie was asked by the judge how old he was, and the child simply put five fingers up.
There was another girl in the court room. She had also come to the United States from Guatemala:
A 7-year-old girl in a pink bow and dress sat patiently on a wooden bench for over an hour before Richardson called her. The girl had come to the U.S. from Guatemala with her dad and had also been separated. The father was now back in Guatemala.
Judge Richardson granted the girl a "voluntary departure", and then asked if she had ever been on a plane. The girl shook her head. The judge told the 7-year-old girl that it would be a new experience.
These kids — like Johan — are facing dire aftereffects from the zero-tolerance policy. Doctors have decried separating children from their parents. Only time will tell how these children will react to the separation policy they've endured.